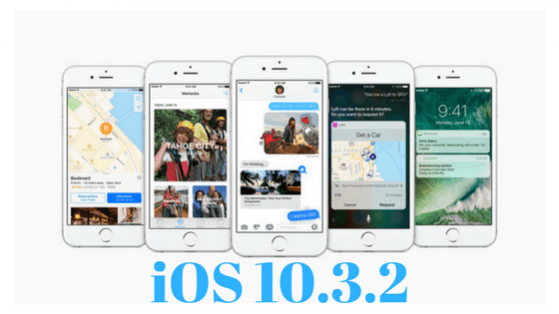 Apple has just rolled out the highly-anticipated iOS 10.3.2 update for iPhone, iPad and iPod Touch with a bunch of security fixes and performance improvements. Those who are unable to install the new iOS firmware via software update (over-the-air) or facing issues after updating, may go ahead and download the manual IPSW links provided in this guide to perform a clean installation via iTunes.
Before we step into the installation procedure, it is imperative to know if your iOS device is compatible with the new firmware. Here is the list of all compatible iOS devices for your reference:
iPhone 5, iPhone 5s, iPhone 5c, iPhone SE, iPhone 6, iPhone 6 Plus, iPhone 6s, iPhone 6s Plus, iPhone 7, iPhone 7 Plus
9.7-inch iPad Pro, 12.9-inch iPad Pro, iPad Air 2, iPad Air, iPad 4, iPad mini 4, iPad mini 3, iPad mini 2
iPod Touch 6th generation
Prerequisites
Ensure that you have backed up all your important user data and settings via iCloud or iTunes before you proceed. In case you run into unexpected soft-bricking issues or app compatibility problems with the newly-installed update, you can always restore from your backup files via iTunes.
Make sure that your device's battery is fully charged before you begin the installation steps, as it could drain the battery mid-way through the process. Note: The estimated time of installation could vary from a few minutes up to one hour depending on the speed of your internet connection as well as your device's hardware configuration (installations could be quicker on newer devices with faster processors and vice-versa).
Prospective jailbreakers are advised to install the update via iTunes as OTA updates have known to cause issues while jailbreaking.
iOS 10.3.2 IPSW direct download links
iPad Air 2 (6th generation WiFi)
iPad Air 2 (6th generation Cellular)
iPad Air (5th generation WiFi + Cellular)
iPad Air (5th generation WiFi)
iPad Air (5th generation CDMA)
How to install iOS 10.3.2 on your device via OTA update
Verify that your iPhone or iPad is connected to the internet via Wi-Fi and then go to Settings > General and click Software Update.
If the update is listed, you can download it by tapping Download and Install button.
Wait until you see the notification saying that the "update is ready" and then return to Settings > General > Software Update. Now hit the Install Now button to install iOS 10.3.2 on your device.
How to install iOS 10.3.2 on iPhone or iPad via iTunes
If for any reason, you are unable to install iOS 10.3.2 via OTA method, just follow the steps outlined below to install the same manually via iTunes:
Connect your iOS device to computer via USB cable and wait until iTunes detects your device.
Hit the device button to the left of iTunes Store button in the top right corner of iTunes.
Click Check for Update button without holding the Option or Shift key and the iOS 10.3.2 update will be automatically downloaded/installed if available.
A pop up message should appear on the screen suggesting that a new update is available. At this moment, just hit the Download and Update button. Note: If you are seeing any older firmware file such as iOS 9.2.1 being listed as the latest update available, then you need to install iOS 10.3.2 manually, using the direct download links provided above.
Skip this step if you were able to download iOS 10.3.2 in the previous steps. Otherwise, download the IPSW firmware file specific for your device and if you are using Safari, just ensure that auto-zip feature is disabled. Alternatively, you can try using Chrome or Firefox.
Once you have downloaded the appropriate firmware file that matches with your device's model number, just press and hold the Option key (Mac) or the Shift key (Windows) and then hit the Check for Update button. Note: Ensure that you don't accidentally click the Restore iPhone button as it will erase your user settings/data and restore your device back to factory settings.
A notification message should appear on the device's screen suggesting that iTunes will update your iPhone/iPad/iPod Touch to iOS 10 after verifying with Apple servers. Just hit the Update button.
Another window showcasing the release notes for iOS 10 should come up on screen. Just hit the Next button and finally click the Agree button to accept the terms and conditions for installing the new update from Apple.
Let iTunes download and install the update. It may take some time to extract the files, prepare the device and then install the update. So, leave the device alone until the update is installed completely.
Wait until the device is updated successfully and then disconnect your device from computer. After the update is done, just reboot your device once and then the Hello screen should appear. Just follow the onscreen instructions to setup the device for first use and start using it.