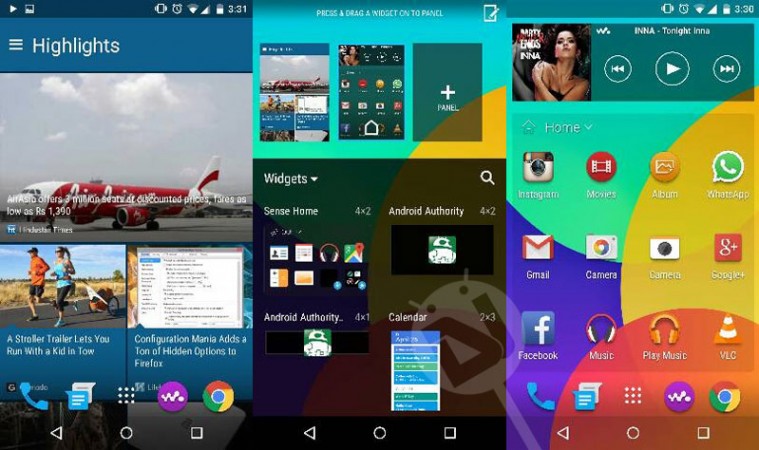 Since the launch of Android OS for smartphones and tablets, HTC Sense is on the headlines for its intuitive interface with almost flawless presentation of information. Dubbed as Sense, the interface has improved so much with the time and it is perhaps one of the best part of the latest HTC flagship, One M9.
Like every other smartphone manufacturers, HTC designs their interface along with several utility apps. Since they are proprietary features, you have to grab an HTC device for using them.
But now it's possible to have those features behaving in similar fashion on your smartphones too. Tech Blog DroidViews has managed to extract all HTC One M9 stock apps into a flashable ZIP file which can be installed on any Android device. Flashing the ZIP you can enjoy HTC's One M9 Sense 7 BlinkFeed Home Launcher, Weather Clock Widget and Keyboard and several other utility stuffs. Following is the detailed list of apps offered in the compressed file.
HTC One M9 Apps
HTC One M9 Home Launcher
HTC BlinkFeed
HTC Weather
HTC Keyboard
HTC Gallery
HTC Music Player
HTC Video Player
HTC Clock
HTC Voice recorder
HTC File Manger
HTC Widgets: Wi-Fi, Hotspot, GPS, Screen Timeout, Screen brightness, Background Data and Auto Rotate
Go through the steps below to have them on your Android smartphone.
Requirements
Your Android device should be pre-rooted with a custom recovery.
Existing ROM should be based on Android KitKat or Lollipop
Around 150MB of free system space.
How to Install
Method-1: Flashing via recovery
Step-1: Download HTC One M9 apps flashable zip file
File name: HTC One M9 apps.zip
Step-2: Copy the file to your phone's storage, make sure to note down the location
Step-3: Reboot your Android device into recovery mode
Step-4: Create a back-up in the recovery mode
Step-5: Select 'install', navigate to the folder where you have saved One M9 apps file, select it and confirm installation
Step-6: Wait until the installation is completed and then reboot
Method-2: Push apps via Root Browser
If your Android Smartphone does not have custom recovery installed, you can try to push the apps into System>> apps & System>> priv-apps folder using root browser app. After copying the files into System directory you need to fix file permissions to rw-r-r (0644) for each file and reboot the device.