As smartphones get better and better with advanced specs, people's concerns about battery life continue to grow. Smartphone displays consume the highest battery power and lighter themes tend to draw more energy, which is why dark modes are gaining popularity. But for years, Google pushed for the use of white colour in its Material Theme, consuming higher than average amount of battery, only to realise it now and call for action.
Google did an extensive study and shared its findings at the 2018 Android Dev Summit. Everything from power draw difference between normal mode and "night mode" and studying each colour and its power draw at different brightness levels helped Google understand the importance of a darker theme in saving battery on phones.
In one of the slides presented at the summit, Google showed that maximum brightness in night mode on a Pixel AMOLED screen was 63 percent lower than the max brightness in normal mode (day). This finding was based on displaying a screenshot of Google Maps in both modes. By comparison, iPhone 7's LCD display had no change in power draw whether used in normal or night mode.
Similarly, Google also acknowledged the fact that white hue drew maximum power while black barely used any power at all. This study was a realisation point for Google, where it pushed the use of white colour as primary on all apps and interfaces since Material Design's inception.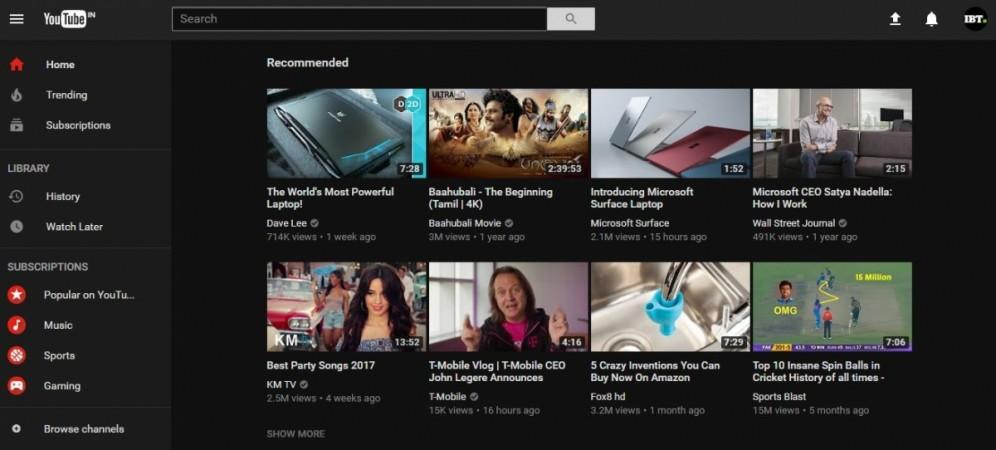 Google's official Material Design information site shows the domination of colour white in the baseline Material colour theme. From Primary to Background and Surface and On Error, everything is power-draining white.
With this realisation, Google will likely bring Dark Mode to Android apps in the future, SlashGear reported. Until then, here are some apps that support the coveted dark mode and some tips on how to preserve the precious battery life on smartphones.
But before we get to that, let us stress upon the importance of having a dark (possibly all black) wallpaper for your home and lock screen. This is the first thing that appears on the phone when you unlock so it makes sense to have a dark wallpaper. In addition to that, some devices like OnePlus phones offer Dark Theme, which automatically uses black-dominating screens for home, settings and such. Google's stock Android also has a Dark theme setting under Display settings, so be sure to activate that.
Now switch to dark theme on these apps to further preserve your phone's battery.
Gboard
While most of us don't realise, keyboard app is extensively used while chatting or searching anything on the web or using social media apps. If you're using a third-party keyboard from Swiftkey or going with stock Gboard, you can instantly turn the keyboard to dark mode and save your phone from a significant power draw, especially when the screen brightness is at 100 percent.
Go to your phone's "keyboard and inputs" settings under "languages & input" then find Gboard and select theme. From a list of options, select the black theme or any darker shade to suit your preference.
Maps
Moving on, your Google Maps also has a dark theme. To activate the same, go to settings from the sidebar > Navigation settings > and select Night under color scheme. Remember, the dark theme will only kick during navigation while the overall app will continue to dominate the white background.
YouTube
If you're an entertainment buff, it is natural you spend a lot of time on YouTube. Well, Google has shown that using night mode on YouTube can consume 60 percent less power at max brightness. That's a good reason to make the switch.
Go to YouTube > General > Activate Dark theme.
Twitter
There aren't many popular third-party apps that support dark theme (are you listening Facebook?), but Twitter isn't one of them. Switch to dark mode on the micro-blogging platform by going into Settings and Privacy > Display and sound > Turn on Night Mode.

WhatsApp
WhatsApp is clearly a popular messaging app with over a billion users, but it lacks a dark mode. But the app partially allows you to experience a dark theme. Go to Settings > Chats > Wallpaper > Solid Color > Choose the dark colour from the options. It's worth noting that the wallpaper will only appear inside a chat window and the overall app will still appear in black and green colour combination.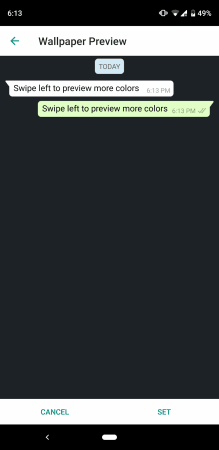 SMS
SMS days are long gone, but you can still turn on dark theme for your messaging app by tapping the three dots on the top corner and enabling dark mode.