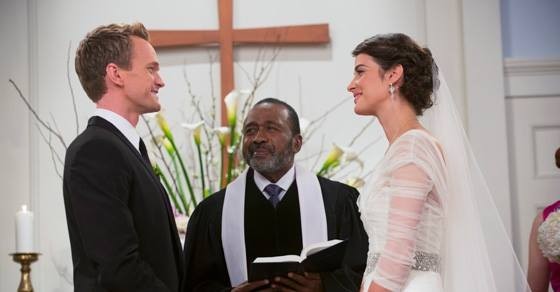 When "How I Met Your Mother" comes to a close by the end of this month, it is sure to leave a lot of fans in tears. Leaked photos and synopsis of the one-hour special episode shows that Ted finally finishes telling his children how he met their mother.
CBS has remained tight-lipped about the episode and the official synopsis only states that Ted gets to the end of his long story, which has often annoyed his children.
Ted finally finishes telling his kids the story of how he met their mother, on the special one-hour series finale of "How I Met Your Mother", the synopsis reads.
But before that, the show ties up some of the loose ends that have been troubling viewers for long. One of them is regarding Robin and Barney's wedding. Will the two finally get hitched? Leaked photos indicate that they do, but not before both of them undergo some serious panic attacks.
"With only a half-an-hour to go, both Barney and Robin have panic attacks about their upcoming nuptials," CBS revealed about the episode in its official synopsis. "Meanwhile, Marshall and Lily rewrite their old wedding vows."
While Marshall and Lily try to calm down Barney, Ted ends up having a serious conversation with Robin. Whatever he said seems to have worked, because photos show Robin being walked down the aisle by her father, and another one shows Robin and Barney grinning at each other before saying, "I Do."
But it is not sure if they will end up as man and wife, as the couple has had their share of ups and downs during their wedding weekend.
Photos also show Ted cuddling with the mother, Barney bringing out the second volume of the Playbook, and the gang sharing a group hug.
The show's creators, Carter Bays and Craig Thomas, assure that the final episode is sure to be a tearjerker, and several theories suggest that the mother is going to die. Several spoilers also indicate that Ted might end up with Robin.
Final episodes of "How I Met Your Mother" will air on 31 March. It will be a one-hour episode that will be split into two parts.