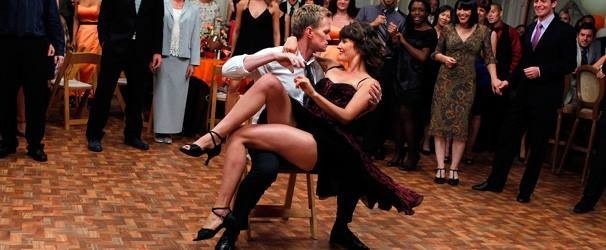 There is just one more episode to go before "How I Met Your Mother" comes to an end and viewers will be privy to what fate had in store for all their favorite characters.
Monday's episode titled "The End of the Aisle" deals with Robin and Barney's wedding, and how the bride runs off from her wedding, as she is unsure of the groom. Robin has a full-on panic attack shortly before the wedding and she reconsiders her decision to marry Barney. The fact that Barney could not find her locket makes her even more apprehensive about getting hitched.
"Some part of me thought Barney would magically find it… I want to be with a guy who comes through for me. The guy who, somehow, against all odds, finds my locket," Robin says.
Ted, who had the locket with him and had intended to give it to Robin as a wedding present, gives it to Barney saying, "She needs it to come from you."
But Robin sees through the act and worries that her entire relationship with Barney is based on lies.
"All of Barney's gestures are based on lies," she tells Ted. Robin also notes that Ted has always made it a point to take her likings into consideration. "You always go big for me," Robin says about Ted stealing the blue French horn for her and also about finding the locket.
"Maybe I made a mistake," she says, adding, "Maybe I should be marrying you. Ted, I should be with you."
However, Ted convinces that he is not the right person saying he does not love her anymore. When Robin says that being with Barney does not make sense, Ted tells her that love does not make sense.
"I am not your future. Barney is," Ted tells her when she suggests eloping. "I'm not that guy anymore. The truth is, I don't love you like that anymore, and you don't love me."
In the end, Barney convinces Robin of his affection by stating that henceforth, he will always be honest with her.
But will Robin and Barney's marriage last? Fans of Ted-Robin are rooting for a divorce so that their favorite couple could end up together. A number of fans are also in favor of the mother dying at some point so that Ted and Robin could rekindle their romance.
Check out some of the messages below:
So tired of this played out Barney/Robin nonsense. Divorce them, kill off the mother, and let's get Ted/Robin together in the finale.

— AthleteAdmirer (@AthleteAdmirer) March 25, 2014
Recorded #HIMYM On DVR. Two minutes in, here's what I predict for next week. Barney and Robin Divorce, Ted and Robin will get together. — Jerome Johnson (@J_G_Johnson) March 25, 2014
98% positive that the "mother dies-Barney/robin divorce-ted&robin get together" theory is true :(