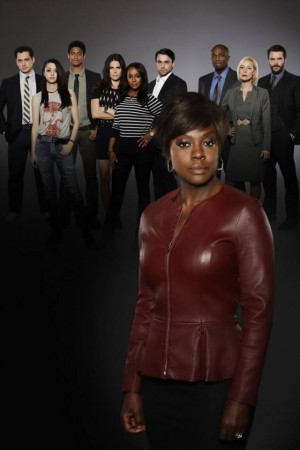 The cast and crew of "How to Get Away with Murder" are set to thrill the audience with out-of-the-blue, plot-changing storyline on ABC, which will be premiered on 25 September at 10 pm.
Here are 7 Things Viewers Should Know Before the Premiere:
1. Thursdays to be Shonda Rhimes' Nights on ABC: Shonda Rhimes, the creator of the popular TV series "Scandal" and "Grey's Anatomy", has taken another prime time space from ABC's Thursday nights for her new series "How to Get Away with Murder".
2. Brainchild of Pete Nowalk: Unlike the other two series of Rhimes on ABC, "How to Get Away with Murder" is the mastermind of Pete Nowalk and it will be the first work of Nowalk as a creator.
Rhimes just handles the role of an executive producer. "It's a show I never would have thought of in a million years. But I feel like it fits exactly in the ShondaLand brand. I'm like the grandmother. I hold the baby, then I give it back," she told thestar.com.
3. Viola Davis to Debut in Lead Role: "How to Get Away with Murder" will be the first series of Viola Davis as a leading lady. The two-time Academy Award nominee will be portraying the role of a criminal law professor Annalise Keating, who works at Philadelphia University. Keating is also a defence attorney and deals with the toughest cases of all times, from fraud and arson to murder.
Davis takes a new look at ABC's upcoming legal drama series to become a masterful and sexy Keating. She is said to be thrilled about her new role as a protagonist. "It's what I've had my eye on for so long. A woman of colour, of a certain age and a certain hue. I don't see anyone on TV like me in a role like this. It's time for people to see us, people of colour, for what we really are: complicated," she told The New York Times.
4. Other Cast Members: The cast list of "Murder" includes, Billy Brown as respected Philadelphia detective Nate Lahey, Alfred Enoch as Wes Gibbins, Aja Naomi King as Michaela Pratt, Matt McGorry as Asher Millstone, Karla Souza as Laurel Castillo, Charlie Weber as Frank Delfino, Liza Weil as Bonnie Winterbottom, Jack Falahee as Connor Walsh and Katie Findlay as Rebecca Sutter.
5. Unexpected Twists and Turns: "How to Get Away with Murder" follows the brilliant and passionate Keating and her four favourite law students, who gets entangled in a murder case.
Nowalk seems to be very excited about the new series and its storyline, he said, "I really wanted to create a character who's always 10 steps ahead of us. If I know what a character's going to do before they do it, what's so interesting about that? And if they're always likable and good in what they do, I don't find that relatable."
6. Premiere Scoop: The pilot episode of the new American legal drama begins with the introduction of Keating as an arrogant and merciless law professor, who believes that practical classes are more important than theory classes.
As the story evolves, Keating will select a group of four students to work in her law firm and will hand-over a murder case that she was working on herself to those students. Gradually, the viewers will get to see the murder of a major character in the story, who will be killed by one of the associates of Keating.
7. Episode 2 Spoilers: The second episode of "How to Get Away with Murder" is titled "It's All Her Fault" and the story line will revolve around Keating's new client Max St. Vincent. The eccentric millionaire Vincent (Steven Weber) is the prime suspect in his wife's murder. Keating will hand-over the case to her most powerful students and challenge them to prove him innocent, according to The Futon Critics.
Click here to watch the pilot episode of ABC's new legal drama series online.
Watch the premiere promo of "How to Get Away with Murder" below: