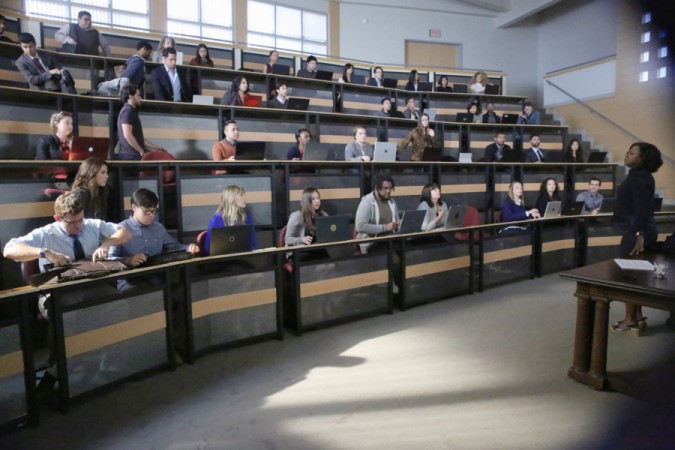 Even after watching two seasons of the popular crime thriller "How to Get Away with Murder", the viewers are yet to learn a lot about the lead characters in the show. Since creator Pete Nowalk has hinted at a character-driven plot in season 3, it can be assumed that the sequel will most probably focus on the young associates of Professor Annalise Keating and their pasts.
The series is scheduled to premiere its third season on ABC next Thursday, Sept. 22, at 10 p.m. and the first episode is titled "We're Good People Now". Although the title itself hints at a new beginning for the female protagonist and her associates, the creator revealed that it will not be easy for Keating 5 to leave everything behind. According to him, as they try to forget all the mysteries in their lives, their past will backfire on them greatly.
Nowalk even teased challenges coming up for Viola Davis' character and said that she will struggle to balance her life as a defence attorney with that of the law professor.
"Annalise's teaching reputation is suffering. She needs to get her s–t together and go back and refocus on what her original passions were. That also means trying to get [the Keating 5] to care about school again. There's a real feeling of, 'Let's get back to normal and move on.' And we'll see if that's possible," TV Line quoted Nowalk as saying.
Meanwhile, the followers of "How to Get Away with Murder" can expect the new season to open up with a new murder mystery. But it remains to be seen whether it's of a lead character or any of the recurring cast members of season 3, including the new add on Brett Butler of "Grace Under Fire" fame.
Additionally, the sequel will explain the relationship between Annalise and her long time associate Frank Delfino and it will also travel through the past of Aja Naomi King's character Michaela Pratt, according to Yahoo TV.