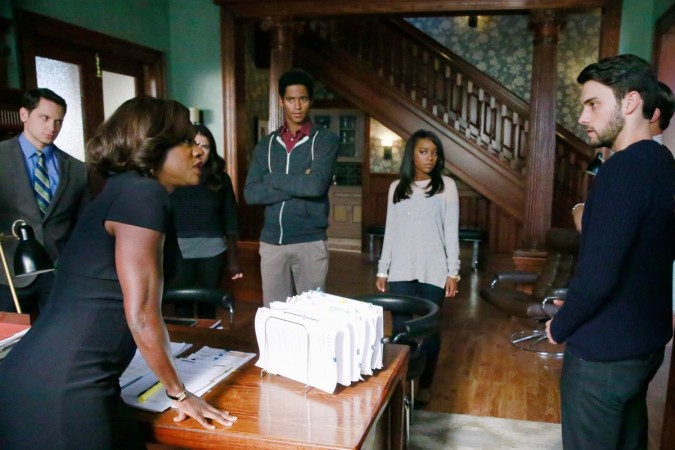 With just two episodes to go for the season finale of "How To Get Away with Murder" (HTGAWM), Annalise Keating (Viola Davis) and her first year associates will have to face some roadblocks in episode 12 titled "She's a Murderer".
The show, which revolves around the twin murder case of Professor Sam Keating (Tom Verica) and his student Lila Stangard (Megan West), will gradually unveil the mystery behind the crime in the upcoming sequels.
In the last episode of the ABC drama titled "Best Christmas Ever", policemen discovered the body of Sam; in episode 12, they begin their search for the killer.
As of now, viewers are merely aware of Wes Gibbins' (Alfred Enoch) role in the death of Annalise's husband and how his professor is helping him to get away with the murder.
But the storyline of "HTGAWM" will take a new turn when Hannah Keating (Marcia Gay Harden) tries to prove Annalise a killer.
She believes that her brother has been killed by his wife or any of her first year associates and will ask the policemen to arrest Annalise in "She's a Murderer".
"Arrest her. She killed him and she tried to hide it by making it seem like he was missing and then he killed that girl but he didn't. She is a murderer. She killed my brother. Arrest her," Hannah screams to policemen in an exclusive trailer released by People Magazine.
Even Connor Walsh (Jack Falahee) believes that Annalise is setting up a trap for them. But other members of Keating 5 are of the opinion that the defense attorney has nothing to do with the discovery of Sam's body.
The official trailer of ABC drama indicates that Annalise will have a tough time in the next episode of the series.
Watch the Wednesday night's episode of "HTGAWM" to know more about the investigation of Sam murder case, which will be live streamed here.
Here are the sneak peek videos of "HTGAWM" episode 12 titled "She's a Murderer":