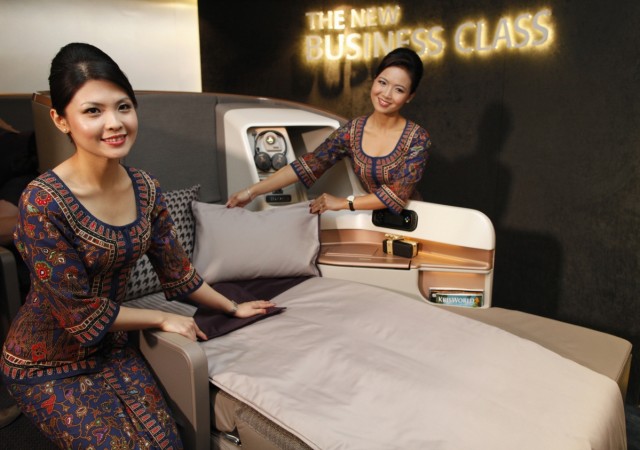 Who wouldn't want to fly high with no trace of the pains and indignities one typically suffers on a long flight in coach, bite into exotic fruits and expensive chocolates in between a multicourse meal served on exquisite china and snooze in roomy, fully reclining comfortable seats?
Flying coach has gotten worse over the years, with seats getting smaller and harder and the service getting shabbier, making the experience beyond the coach-class curtain look more and more tempting; especially with airlines competing to provide out-of-the-world luxury experiences for its business-class travellers. When you buy a business-class seat, you're paying to have a flying experience that's at the very forefront of airplane technology
It's not a matter of whether ones wants to travel in a business class, rather a question of how to meet the money gap between first class and business class. However, if you really want to experience the luxury and comforts of the business class and treat yourself to a well-deserved upgrade, there are a number of different ways to do it. It requires a bit more legwork on the ground, but once you're relaxing in the business class with a drink in your hand, it would definitely have been worth it.
Become a frequent flier
Airlines generally categorize their customers based on how often they fly—more precisely, how much they spend! If you manage to cover 50,000 miles a year, you will find yourself in the "elite" zone, a position that makes you important to the airline. You'll be rewarded with various perks, including quicker check-ins, bonus miles and even business-class upgrades.
Even if you aren't among those who travel much professionally or personally, take up "mileage running", wherein one finds cheap, long flights with one destination in mind- covering maximum distance. A good thumb rule for determining if a mileage run is worth it, is if the price-per-mile cost is $.02 or below.
Many co-branded airline credit cards also offer hefty sign-up bonus points and reward miles for purchases. You need to focus on credit cards such as the Platinum Delta SkyMiles American Express that gives you 5,000 Elite Qualifying Miles and 35,000 bonus miles after you spend $1,000 in the first three months of owning the card.
Buy upgrades with miles
This is by far the easiest, most sure-fire way to get an upgrade for an elite flier. When it comes to cash in your miles or rewards, you may get more bang for your buck by using them for upgrades to first class on your next flight instead of using them to get a "free" flight sitting in coach. It's not only a great way to score a seat in first class while paying for a seat in coach, but you can ideally get up to two or three upgrades out of your miles by the it is plump enough to be cashed in.
Arrive for an early check-in
Once you have the elite status locked in, chances for you to get an upgrade to the business class is higher, if you are at the airport for an early check-in. When there is one upgrade available and two elite flyers are requesting it, all else being equal: the one who checks in first gets it.
Many airlines will give you the option to upgrade your ticket for a discounted rate at the last minute if they have the room. So keep your wits about you while checking in. Virgin Amrerica provides last-minute upgrades for between $70 and $270 depending on the length of the flight, when seats are available, noted Airfarewatchdog.
Get bumped!
All airlines over-book flights and sometimes, when they least expect it, everybody shows up for the flight. When that happens, they have to find people willing to be bumped from that flight. That could be you! Take advantage of the opportunity, if such a scenario unfolds and approach the gate with a sympathetically volunteer to stand back, while they rebook you in return for an upgrade voucher in addition to whatever other incentives they might be offering.
This will be more likely to work if you don't have checked baggage, which would entail much more work on the part of the airlines in order to bump you.
Fly when business travellers aren't
You're more likely to be offered an affordable last-minute upgrade or find a cheaper business-class fare if you schedule your trip for a time when business travellers are not going anywhere. Try off-peak days and times, like leaving for London at noon on a Wednesday—business travellers likely will leave on a Monday or Tuesday since they won't want to spend the weekend away from home. It may also be easier to upgrade during the holidays than at other times of the year.
Keep an eye out for sales
Premium cabin fares do go on sale -- you just need to watch for them. Airlines increasingly are making it possible for fliers to buy their way into the upper classes for not that high a cost. They send out alerts via email and snail-mail touting fare sales -- so don't dismiss them as junk.
Air India in April had announced the launching of "Get Up Front" scheme, using which its economy class passengers can experience luxury of its executive class on its domestic network from 43 stations. With Get Up Front, customers can experience business class luxury for ₹5000 for flights covering up to 750 Km and ₹7000 for longer distances upto 30 September 2014.