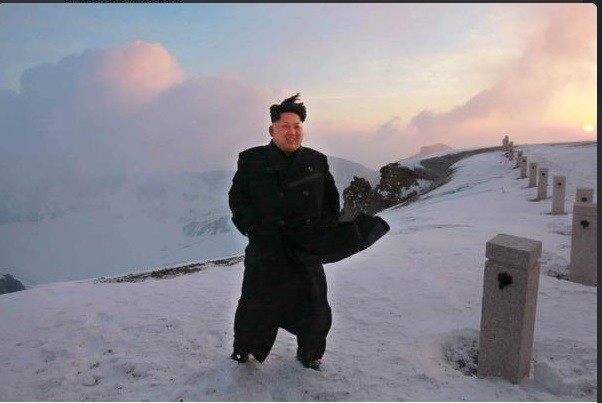 After North Korea's state media hailed Kim Jong-un for scaling the country's highest mountain on Saturday, photos of him smiling on the mountaintop in his black overcoat and leather boots went viral on social media, with Twitterati questioning the feat.
Kim reportedly climbed the 2,750 meter-high Mt Paektu to meet the Korean People's Army fighter pilots.
Mt Paektu, which lies on the border with China, reportedly has familial significance as the ruling family believes Kim's father Kim Jong-Il was born on the mountain, a claim disputed by historians who state that the former ruler was born in Russia.
Kim's latest feat was talked about widely on Twitter, with many calling it yet another photo-shoot by the state to project him as invincible.
Kim's choice of words to describe the climb were also mocked.
"Climbing Mt. Paektu provides precious mental pabulum more powerful than any kind of nuclear weapon," he said, according to North Korean state media KCNA.
"With a broad smile on his face, the Supreme Commander said that the looks of Mt. Paektu is impressive and the sunrise over Mt. Paektu is a charming and beautiful sight rare to be seen," the state media reported.
The photos come only days after the state media had claimed that Kim was able to drive at the age of three.
Here are some of the tweets on Kim Jong-un's mountain climbing feat:
Kim Jong-Un 'climbed' North Korea's highest mountain yesterday. Must get a pair of those hiking boots! #AllTalk pic.twitter.com/PWujyzw9pv

— Ian Dempsey (@IanDempsey) April 20, 2015
'Just went out for a stroll': How exactly did Kim Jong Un get to the top of North Korea's highest peak? http://t.co/esJ4Q9OoNR — IrritatedWoman™ (@irritatedwoman) April 19, 2015
#HitlersToilet - Kim Jong-Un has climbed 9000ft in normal shoes. Nothing suspicious there. http://t.co/B5lmRultbC pic.twitter.com/s4LUL77k5L

— Absolute Radio (@absoluteradio) April 20, 2015
North Korea released photos of Kim Jong Un having 'climbed' the highest mountain in the country. So what's this then? pic.twitter.com/zAp2LVuAen — Unnamed Insider (@Unnamedinsider) April 19, 2015
Kim Jong Un doesn't look like he can climb stairs let alone a mountain #photoshop #truthordare https://t.co/dkwHdD1Qs5 — Rona Edwards (@RonaEdwards) April 19, 2015