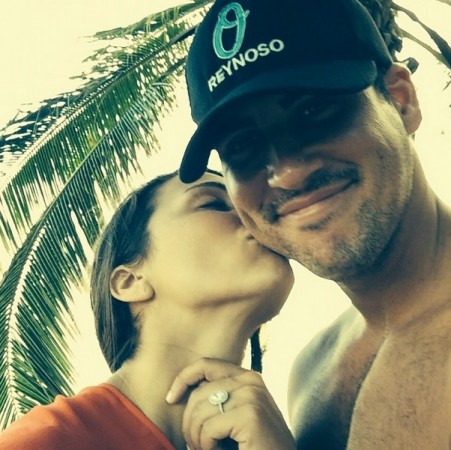 Nick Viall caused quite a stir on the finale of "The Bachelorette" on Monday, when he called out Andi Dorfman for sleeping with him when she had no intention of picking him up as the winner.
Fans of the former assistant district attorney were quick to slam him for talking about their private moments on national television, and many even wondered how Dorfman's fiancé, Josh Murray, would react to the news.
Now, a source has revealed that Murray was cool as a cucumber when Viall dropped the bombshell because Dorfman had already told her fiancé about sleeping with the sales account executive.
"Josh knew that Andi slept with Nick. Andi made it aware to Josh so they had a clean slate moving forward. She slept with Nick because at one point she thought he was the one," a source told HollywoodLife.
"Josh was OK with it. He was more scared that something else would happen. He had a [bad] feeling about the whole thing. He was thinking that there was going to be some sort of random twist or huge announcement [during the special]. So Nick's 'made love' comment kind of just rolled off him. Josh got the girl, so he has no reason to worry over it," the source added.
In an interview with HuffPost Live, Murray said that he is not a big fan of Viall, and has termed the move classless and disrespectful.
"I really don't care for Nick that much. I think it was a classless move and very disrespectful, but I feel like she handled it with as much class as possible and that's all we're doing in this situation," Murray said, adding: "We really could care less about that -- that's so far in the past, it's crazy. I mean, we're so much in love."
Dorfman admitted that she wanted to walk off the stage when Viall made the comment, and added that she is unsure what Viall was trying to accomplish by revealing what happened in the Fantasy Suite.
Meanwhile, Nikki Ferrell, the winner of the previous season of "The Bachelor" took to her Twitter account to wonder if the dating reality show's producers were behind Viall spilling intimate details of his Fantasy Suite date.
"Gee I wonder who told Nick to say that....How the producers of @BachelorABC sleep at night is beyond me. #trash," she wrote, followed by a message congratulating Dorfman and Murray.