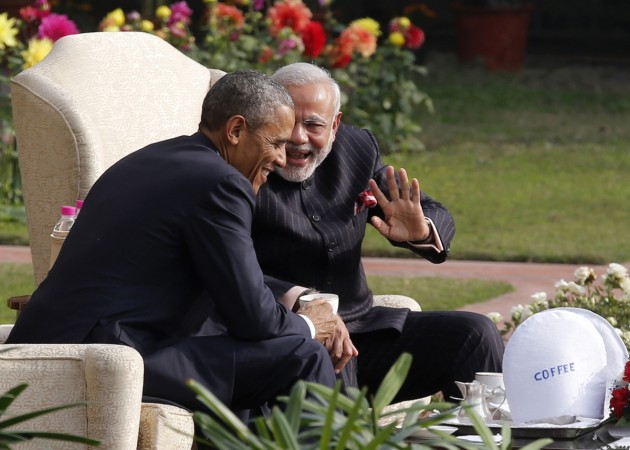 As US President Barack Obama wrapped up his second India visit on Tuesday, reactions from China ranged from cautious to critical and then to dismissive, even as US-India ties surged on a civil nuclear deal.
'Superficial rapproachment'
As Indian Prime Minister Narendra Modi and Obama pushed through with the civil nuclear deal in the midst of public display of affection, China called the bonhomie a "superficial rapproachment", with state news agency Xinhua stating that the visit was "more symbolic than pragmatic."
"After all, only one year ago, U.S. diplomats were expelled from New Delhi amid widespread public outrage over the treatment of an Indian diplomat in New York and Narendra Modi, India's Prime Minister and then chief minister of Gujarat, was still banned from entering the United States," Xinhua reported, digging at the period of strained relations between India and US in the past.
'Three days not enough for Modi, Obama to become friends'
Xinhua also took a pot-shot at the much-publicised Modi-Obama friendship.
"Three days are surely not enough for Obama and Modi to become true friends, given their hard differences on issues like climate change, agricultural disputes and nuclear energy cooperation," it said in its Sunday edition.
China Cautions India on NSG Entry
What further irked China was Obama's bid to include India as a member in the Nuclear Suppliers' Group, with some reports suggesting that it would back India's arch-rival Pakistan to also get an entry.
"We believe that such (an) inclusion should be conducive to the integrity and effectiveness of the regime and decision should be made on consensus. We notice India's commitment to relevant issues," Chinese Foreign Ministry Spokesperson Hua Chunying said on Monday.
China stopped short of completely dismissing India's NSG entry, stating that it will "support India's inclusion into this group if it meets all the requirements", putting pressure on India to sign the Non-Proliferation Treaty.
Pakistan an 'irreplacable friend': China
However, in a move that is being seen a way to hit back at India for jointly criticising China over its presence in the South China sea with US, China called Pakistan an "irreplacable all-weather friend", when Pakistani Army Chief General Raheel Sharif met with Chinese leaders in Beijing.
Don't Fall into US Trap: China to India
However, as India marked its 66th Republic Day on Monday, China later took a more sober tone, first extending wishes to India, with Chinese President Xi Jinping even calling for Indo-China strategic partnership to be raised to 'higher levels', and then cautioning India to not "fall in the US trap".
In an article titled 'India, China mustn't fall into trap of rivalry set by the West' in Global Times, which is run under the state newspaper People's Daily, it said that the rivalry between the 'Chinese dragon' and the 'Indian Elephant' was created by the West, stating that "a trap is a trap".
"The tricky part of so much attention is that, as we watched Indian Prime Minister Narendra Modi greet US President Barack Obama with a bear hug at Delhi airport on Sunday, many eyes, naturally, have turned to a third party – China," the report said.
'China-India relations little impacted by Obama's visit'
China finally seemed to shake off its cautious stance, with a commentary in Xinhua stating that the country's relations with India was 'little impacted' by Obama's visit.
"US President Barack Obama is probably one of the most high-profile guests ever attending the Republic Day Parade in India, but his presence there this time is not expected to significantly impact the longstanding China-India relations," Xinhua said.
While pointing at certain persistent thorns in the Indo-China relations, the report ended on a positive note, dismissing speculations of Obama's trip impacting relations between the neighbours.
"China and India do have their differences, with the most outstanding ones in relation to their border disputes. However, aside from China's repeated declaration of its intention to settle border disputes with India peacefully at an early date, there are other cases in point that could serve as testament of growing rapport between Beijing and New Delhi, with the latest being joint new year celebrations by the two sides at a bordering area on Jan 1," the report said.
"(While) the ongoing Obama trip in India may succeed in propelling the U.S.-India relationship forward, it could hardly change the ground reality that India also needs China as a crucial cooperation partner".