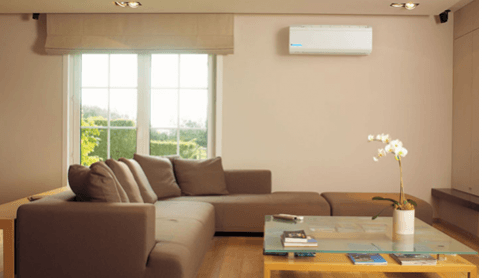 High temperature brings uncomfortable conditions.It is important to be prepared to beat the scorching summer heat with a reliable air conditioner. This buying guide will help you choose the right air conditioner unit for your home, right down till choosing the right tonnage for AC depending on the area, attractive deals and offers on ACs, smart AC features and how to maintain an AC for long use.
Factors to consider before selecting an air conditioner
Before making the final decision to buy an air conditioner, you need to consider a few important factors:
Capacity
Room size
Energy efficiency
Window AC or Split AC
Furthermore, you must carefully examine other significant features like drainage system, air filters, cooling speed, noise reduction technology, installation cost and warranty before making the choice.
Types of air conditioners
Window AC and Split AC are distinctly different. Which one would meet your requirement?
Split AC Vs. Window AC
A Split AC unit incorporates two units - indoor unit and outdoor compressor unit, connected by a copper tube.

Mounted on a wall
Ideal for any room types
Better air flow
Energy efficient, quick cooling—inverter AC
Quiet operation
Expensive

A Window AC is a single unit containing all other components of an air conditioning unit

Easily installed in a window
Ideal for small and medium-sized rooms
Single unit contains compressor, motor, heat exchangers etc.
Consumes more power
Noise level is high
Cheaper
Facts:
4 million AC units were sold in India during 2015-16
Split ACs share 75% of total AC market in India
95% of high-income group uses Split AC
74% of middle-income class loves Window AC
Temperature comparison of Inverter and non-inverter Split ACs
Determine tonnage capacity of an AC for your room
Buying a large AC unit does not necessarily provide better cooling. The capacity of the unit should be chosen cautiously based on your room size. It involves three steps:
1. Measure square footage of the room
For square and rectangular rooms: Measure length and width in feet, and then multiply it.
For triangle room shape: Calculate length and width of the room in feet, and multiply. Then divide it by two.
For complex shaped rooms: Divide the room into square, rectangle or triangle shapes and apply above mentioned formula.
2. Find the cooling capacity required for your room
An AC unit's cooling capacity is measured in British Thermal Unit (BTU) per hour. Following chart helps you find the right cooling capacity for your room size.
1 Ton = 12000 BTU/hr
| | |
| --- | --- |
| Area to be cooled(in sqft) | BTU per hour |
| 450 to 550 | 12,000 = 1 Ton |
| 550 to 700 | 14,000= 1.2 Ton |
| 700 to 1,000 | 18,000 = 1.5 Ton |
| 1,400 to 1,500 | 24,000 = 2 Ton |
| 1,500 to 2,000 | 30,000 |
| 2,000 to 2,500 | 34,000 |
3. Exceptional cases
If the room has excessive sunlight, increase BTU capacity by 10%
If the room is heavily shaded, decrease the capacity by 10%
For kitchen, select an additional 4000BTU
If the room has more than two persons, add 600BTU per person
Check energy efficiency
Efficiency of an air conditioner is assessed by the Energy Efficiency Ratio (EER). Bureau of Energy Efficiency (BEE) provides ratings from 1 to 5 based on the efficiency and power consumption. High EER rating means the unit is more energy efficient.
Smart AC features
Air purifier filters: Most ACs come with an advanced technology to purify air to keep the environment clean. The remove harmful substances like dust, bacteria and other minute particles.
Sleep mode: This feature provides a comfortable temperature during night. Sleep mode saves lots of energy.
Compressors: The air conditioners use specially designed compressors to deliver best cooling experience.
Auto defrosting: To protect the unit, auto-defrosting technology will stop functioning of fans and thus halts heating mode.
Dehumidification: Dehumidifier in the AC unit removes excess moisture from the room. High level of moisture can cause bacteria growth.
Aluminum or copper condenser coils: In any air conditioners, coils are required to convert gas refrigerant to liquid, and vice versa. Best feature of an aluminum coil is that it is cheaper. Copper coil is less corrosive and has high heat transfer rate.
Window and Split ACs from best brands
Many well-established brands bring different models of Window and Split air conditioners to Indian market.
Air conditioner maintenance tips
Here are some essential maintenance tips to keep your AC unit's original efficiency:
Regularly clean/change filters to ensure its optimal functioning. Keeping unclean filters for a longer period can bring major damage to the unit.
Clean/replace coils of evaporator and condenser at a regular interval as they collect lots of dirty particles over a period.
To maintain the good condition of the AC, clean the ventsand outside unit as they gets blocked over a period of time.
Check wiring and insulations to find if there is any sign of overheating.
Proper maintenance is required for the condenser fan unit. Replace the fan blades if required.
To ensure an effective cooling, check refrigerant liquid for leaks.
Shop Split and Window AC at attractive prices
Today, buying an air conditioner is no longer difficult as many online retailers sell Split and Window AC units at lower price. Many popular AC brands bring latest air conditioner models into the Indian market with best star rating and advanced energy saving features. Deal Platter makes your shopping easy! Select the right air conditioner unit from a list of unbeatable discount offers. Deal Platter brings a huge assortment of energy efficient Split AC and Window AC with exclusive deals and offers. Shop Window and Split air conditioners from brands like Blue Star, Voltas, Videocon, LG, Hitachi, Kenstar, Koryo, Hyundai, Samsung, Godrej, Electrolux and Whirlpool.
Buy air conditioners online at best price
Price range of different AC units on Dealplatter
Brand
AC Type and star rating
Capacity
Best price range (Rs.)
Voltas
Split AC, 5 Star
1Ton
30,000 – 32,000
Split AC, 5 Star
1.2 Ton
25,000 – 27,000
Split AC, 5 Star
1.5 Ton
32,000 – 33,000
Split AC, 3 Star
2 Ton
39,000 – 40,000
Blue Star
Split AC, 3 Star
1 Ton
25,000 - 27,000
Window AC, 2 Star
1 Ton
20,000 - 21,000
Window AC, 3 Star
1 Ton
21,000 - 22,000
Split AC, 3 Star
1.5 Ton
27,000 - 29,000
Hitachi
Split AC, 3 Star
1 Ton
28,000 - 29,000
Split AC, 5 Star
1.2 Ton
35,000 - 36,000
Window AC, 3 Star
1.5 Ton
26,000 - 28,000
Samsung
Split AC, 3 Star
1.5 Ton
28,000 - 30,000
Split AC, 5 Star
1.5 Ton
35,000 - 36,000
Videocon
Split AC, 3 Star
1 Ton
21,000 - 23, 000
Split AC, 5 Star
1.5 Ton
27,000 - 29,000
LG
Split AC, 5 Star
1 Ton
36,000 - 38, 000
Split AC, 3 Star
1.5 Ton
29,000 - 31,000