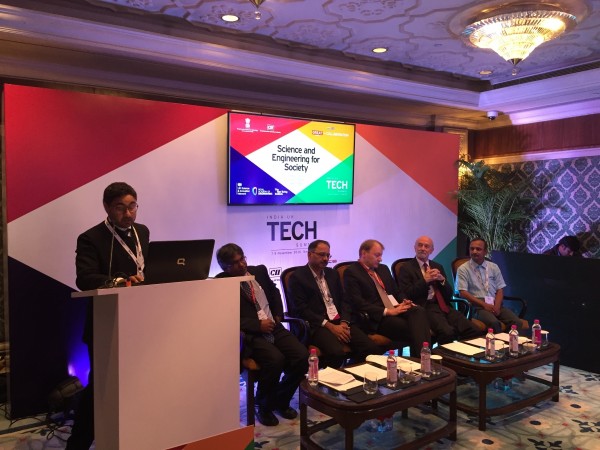 A post-lunch series of presentations on science and engineering invariably runs the risk of raising a yawn. More so, when the open-air lunch served is overwhelmingly Indian and not British – complete with buzzing flies who have bravely ventured out to accompany the sun that is finally emerging over smoggy Delhi. But the Royal Academy of Engineering (RAE) managed to do exactly the opposite, which is why the tiny venue of the India-UK Tech Summit was packed all the way to the back.
Prof. Ravi Silva, head of Advanced Technology Institute at the University of Surrey, started by spelling out how various grants and initiatives by the Royal Academy of Engineering were "putting engineering at the heart of society". The "minor cultural differences" between the two cricket-loving, tea-drinking nations, he felt, could be overcome – debatable though. From very micro nano-tech solutions to existential questions about how we could make energy free (since we get more energy from the sun in an hour than we need in a year) he sparked off several trains of thought that subsequent speakers would take up.
Patrick J. Wolfe, deputy director, Alan Turing Institute, dwelt on the role of big data for society with sensors becoming ubiquitous in smartphones, wearables and other connected devices. He emphasised how commoditisation of computers has led to on-demand computing with low cost of storage and their role in solving societal problems around congestion, pollution, lowering the barriers of urbanisation and financial inclusion. One of his more interesting observations was that big data would lead governments away from policy making led by guesses to a solid evidence-based approach.
He was followed by Sir Mike Gregory, former head of IfM, University of Cambridge, who had the audience in splits with his dismissal of what was – or still is – being touted as the 'service economy'. "Manufacturing," he asserted, "was back in fashion. The assumption that manufacturing is anything but knowledge-based is balmy." The changing nature of manufacturing across sectors has led to distributed manufacturing systems with myriad opportunities in:
Digitisation: Product design, production control, demand & supply integration.
Localisation: Just-in- time production.
Personalisation: Mass customisation, user-friendly enhanced functionality.
New production technologies: Multiple scales of production, resource efficiency.
Enhanced designer/producer/user participation: A three-way flow.
All of these, he felt, are creating a new scale of opportunity for Indian companies to leapfrog and attain new levels of capability.
From the future of manufacturing to the changing phases in engineering education was the theme of IIT Delhi's Prof. PVM Rao's presentation. Engineering institutions need to change curricula to meet the demands of the future in nano-tech, data science and distributed manufacturing. He stressed that the emphasis has to be on knowledge application rather than just knowledge acquisition, whereas the current teaching-learning eco-system is not conducive to this shift. Immersive experience, he believed, is needed so that teachers and students understand the end- user's needs and innovate early enough to be successful in a market.
Wrapping up the session was an engineer-turned-social entrepreneur, Chandrasekeran J. An RAE-Newton Fund London Awardee, and founder & CEO of WATSAN Envirotech Pvt. Ltd., he showed how "understanding the pain" helped create products that benefitted society and also made sound business propositions. From non-carcinogenic polycarb-free milk feeders to water purifiers made without electricity and with no maintenance costs that have apparently impacted 100,000 households, and toilets made of solid waste glass fibres dumped by windmill blade manufacturers... his mission is one of passion first and profit later.
In all of these talks, the underlying thread was that the Royal Academy of Engineering has been actively involved in furthering the cause of engineering and science as disciplines that have evolved – not just in UK but also in India.