Although they managed to re-sign most of their players capable of bringing out their best under Albert Roca, the truth is Bengaluru FC's decorated team building over the last four years was left scattered at the ISL Player Draft 2017.
Almost every team during the player draft on Sunday, July 23, drew some kind of an inspiration from Bengaluru FC's rich legacy to bolster their side, ahead of the Indian Super League season 4.
Aamar Tomar Kolkata (ATK) and Kerala Blasters reaped the most benefits of BFC's recent history to make stunning statements at the ISL Player Draft. That said, Bengaluru FC showed tremendous intent in re-signing their key players and holding on with firm determination whenever the offer of an instant trade arose from another team.
READ: Full list of players bought by all teams at the player draft
The Bangalore football team managed to re-sign as many as five of their key players in the ISL Player Draft, thus totalling the total number of players retained ahead of ISL 2017 to nine.
List of players who will still be a part of Bengaluru FC for ISL 2017:
Harmanjot Singh Khabra (defender-midfielder) – Been there at the club since 2016, after Roca joined in as the head coach.
Lenny Rodrigues (central midfielder) – Been there since the summer of 2016.
Alwyn George (attacking midfielder) – Been there since 2015.
Lalthuammawia Ralte (goalkeeper) – Been there since 2014.
Calvin Abhishek (goalkeeper) – Started out as a youth player at the club.
Malasawmzuala (midfielder, developmental player) – Been there since 2015.
Nishu Kumar (full-back, developmental player) - Been there since 2015.
Udanta Singh (forward) - Been at the club since 2014.
Sunil Chhetri (forward) - Been with BFC since their inception in 2013.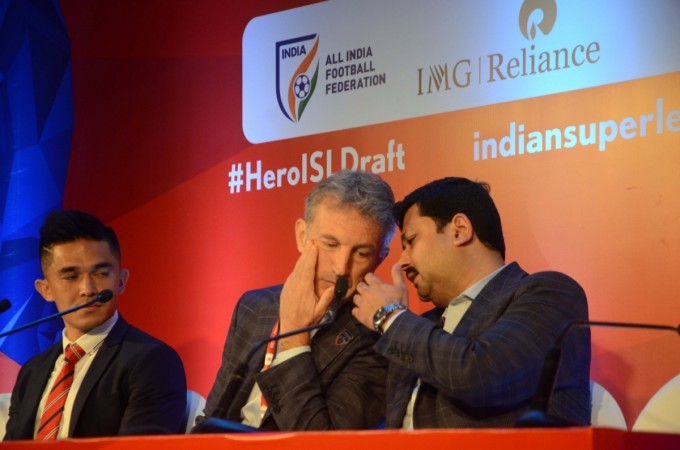 Bengaluru FC - the wind beneath all Indian Super League teams
The loss of midfield maestro Eugeneson Lyngdoh was absolutely hard to digest for every Bengaluru FC fan. The Indian football star became the huge attraction he is today just because of the Bengaluru-based football team who signed him back in 2014 after successful stints across north-east clubs in the I-League.
ATK's signing of Eugene in the ISL Player Draft on Sunday may have come as a blessing for him, personally. The midfielder reunites with coach Ashley Westwood, the coach under whom the Meghalaya man found his real mojo, at Bengaluru FC.
With Westwood at the helm as the assistant coach, a complete raid of present and former Bengaluru FC players was expected. The signing of lanky forward Robin Singh too was another big statement. Clearly, the former Bengaluru FC coach showed the intent of carrying forward the legacy he was creating at BFC, to ATK.
We cannot have all the players we want. Eugeneson, Rino and Chhuantea have been important players for the club, but we knew it was impossible for us to get all our choices. However, we are happy with our picks and who we've signed so far. The circumstances of a draft mean that some players have to go and we've tried to keep as many players as possible. We looked at players who are compatible with our team, because we have important games in the AFC Cup coming up fast.

- Albert Roca, Bengaluru FC coach
Kerala Blasters, too, raided Bengaluru FC to snap up the top three Indian football stars in CK Vineeth, Sandesh Jhingan and Rino Anto.
While Jhingan joined only last summer and may not have stayed on with BFC that long, the same cannot be said for the terrific Kerala duo Vineeth and Anto. While Vineeth steadily became a cult figure for scoring late goals in big matches for Bengaluru FC, Rino Anto was everyone's favourite at the club -- from players to coaches and ball-boys to fans.
Anto was one of the most loyal players in the club's history and Bengaluru FC, too, rewarded him immensely by giving him proper time for rehabilitation during his frustrating period of injuries, that saw him miss the entire I-League 2017 season.
Editor's view
Bengaluru FC talisman and skipper Sunil Chhetri did mention that the player draft absolutely gave no option to the players to choose their preferred club and that was completely unwanted. We cannot but see the enormous truth behind what the Indian football legend mention.
Clearly, Bengaluru FC's hard work over the years of building the best Indian football team possible has been left violated. But that's something you just cannot help, can you? After all, Indian football is still at a nascent age and several experiments like this are bound to happen in the coming years as well -- the players like it or not.