During the early 90s, when children were engrossed in a game of gully cricket, this 13-year-old boy was handed over the duty to cook and manage the langar kitchen in a Lucknow's gurudwara. Little did the teenager know that his delicious meethechawal was a sign from the destiny that this will be just one of the many lip-smacking dishes he was about to make.
The youngster went on to make history and became the youngest executive chefs of his time, has been a celebrity judge on several cooking shows, host of his own slew of shows and is also a key judge of the 4th edition of Young Chef Olympiad. He is none other than Chef Ranveer Brar.
His first brush with cooking happened at the age of 13 when a priest at the Lucknowi gurudwara asked him to cook something. The youngster took up the ladle to make a serving of meethechawal.
Thankfully, by "Divine Grace" as he puts it, the dish turned out to be delicious and that landed him his first kitchen duty – "to assist in Langar cooking every time," the 39-year-old told International Business Times India.
The royal connection:
While meethechawal was the first dish he cooked, Ranveer owes his exposure to wide range of cuisine in Lucknow. "When I was older and started exploring the streets of Lucknow, the lanes, its food and folklore started unfolding before me. At that point, I got a taste of different sides of food and food connections, food history and food conversations as well. That opened up a completely new world of possibilities of what all one could do with food," he told IBTimes India.
At a very young age, the chef assisted a kabab vendor in the city of Nawab. His experiences and learning helped Ranveer to become the youngest executive chef at the age of 25, a stunner back then.
"In retrospect, Langar cooking taught me the value and importance of a clean kitchen, kitchen management and of course, the experience of cooking for large groups," he shared.
Age just a number:
While he might be the youngest executive chef of his time, the industry has now witnessed chefs much younger than 25 running the kitchen at restaurants and hotels. And Ranveer is glad that the shift has happened.
"I think it's a great trend that the entry level barrier for cooking is coming down. Earlier one used to start cooking late and we used to become Exec chefs much later in life. But now there's nothing stopping you from cooking at home, you establish a cooking level of relationship with food much earlier in life, so it's only justified that the entry level barrier for a chef has receded," he said.
Comparing the present situation with that of the past, the chef explained, "Earlier it took time to get the same information that is now just a click away, thus reducing the time to access information. That said, the experience, that comes with time and by constantly and persistently pursuing your passion makes all the difference."
Cooking, a child's play:
Lately, an increasing number of children are also entering the kitchen. This has paved way for numerous cooking competitions featuring children below the age of 12. While many have debated that it is too much pressure for children on these shows (Shoojit Sircar even deemed children reality shows are "destroying them emotionally & their purity" last year), Ranveer feels it's all about how they are handled.
It's much easier for a child under 12 to come out happier in a cooking competition as compared to other performance-based shows
"I personally feel children in any reality competition, for that matter, if not handled well, tend to get pushed to extremes. That can sometimes develop an aversion or make them fall off their love for that particular pursuit. It's about handling these reality competitions well, cooking being one of them."
Explaining from the point of views of these cooking shows, he said, "Cooking is still subjective and everyone can find happiness with what they cook. There really is no right or wrong when it comes to cooking, especially with children and hence it's much easier for a child under 12 to come out happier in a cooking competition as compared to other performance-based shows, so, I feel it's a great opportunity."
Stick to the basics:
Whatever be the age, Ranveer feels the Gen-Nxt chefs have more exposure and access that to information apart from the formal culinary education and it is a good thing.
However, he has a small advice for the young chefs. "My advice for them is to stick to the basics, remember and apply them throughout, study the actual process of food as much as food sources, the effect of ingredients on one another and eventually on the dish. It's these fundamentals that will go a long way in developing your own style of cuisine, give you that connect with food which at the end of the day is more important."
Winner's hat:
Ranveer is currently a part of judge's panel at the 4th Edition of Young Chef Olympiad and he is looking forward to meeting the new winners. While his bets are placed on India, he says that there is another country that has his attention.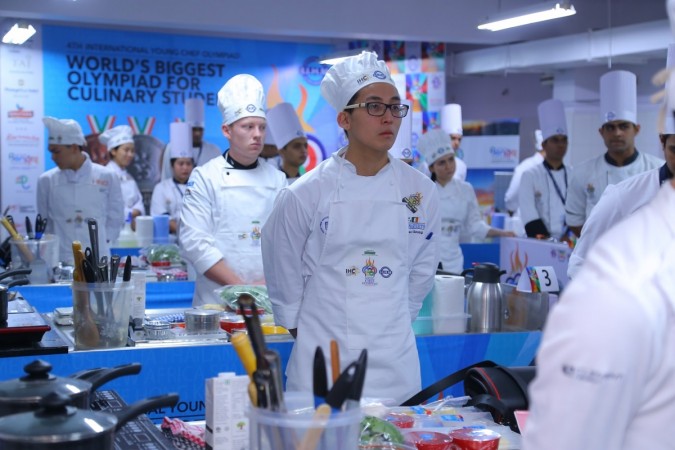 "Apart from India, I am very excited for Singapore. As a country, it is very disciplined when it comes to cuisine and this shines through in competitions, last year being an example. So yes, I am looking forward to what team Singapore comes up with this year."