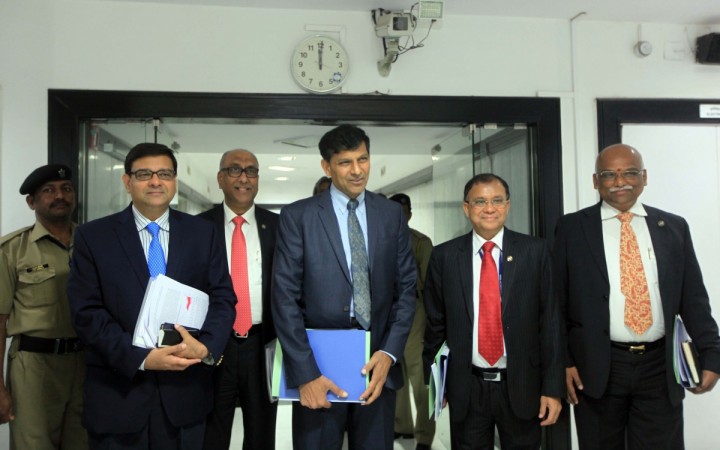 The Reserve Bank of India (RBI) decided to keep key policy rates unchanged at Tuesday's meeting after having raised interest rates twice -- in January and March this year.
The RBI left the repo rate unchanged at 7.5%, the Cash Reserve Ratio (CRR) at 4% and Statutory Liquidity Ratio (SLR) at 21.5%.
Here is what analysts say about RBI's unchanged rate decision:
"The disappointment was because we were expecting a reduction in the CRR which did not happen. But overall we think the policy was more or less in line with the expectations. We hope for another 150 bps of policy rate cuts later on in the second half of the year."
-Vivek R Misra, Strategist- Asian Equities, Global Research & Strategy, Societe Generale, told The Economic Times.
"The upshot is that the rate cutting cycle still has some way to run. We continue to expect the repo and the reverse repo rates to end the year at 7% and 6%, respectively, both 50bps lower than where they are today." - Capital Economics.
"We believe RBI would like to assess the effect of un-seasonal rains and also projections of monsoon to see its effect on food inflation. To sum up, inflation has to undershoot RBIs projection of 5.80% for more easing to come. We believe if the government continues to address supply constraints, inflation can surprise on downside and create space for more 25 to 50bps of easing and bond yields will eventually drop to 7.50%."
- Kunal Shah, Fund Manager - Debt, Kotak Mahindra Old Mutual Life Insurance Limited.
"The RBI's comfort on the inflation side is positive news. However, if they are uncomfortable on growth, it probably leaves the door open for future policy rate cuts. Those cuts will be supportive to the fixed income market, but may not be as supportive to the equity markets."
-Nilesh Shah, MD & CEO, Kotak AMC, told to The Economic Times.