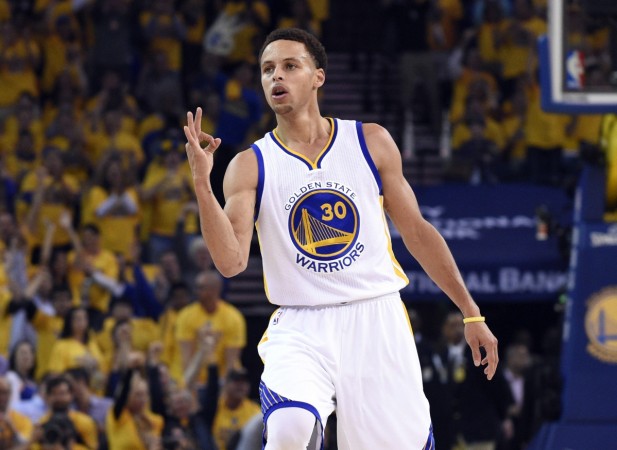 Golden State Warriors came back from a 16-point deficit to take a 1-0 lead in the best of seven series of the the Western Conference final against Houston Rockets at the Oracle Arena.
Stephen Curry, the NBA MVP of the season, turned the heat on as he came up with a game high 34 points, which included six three pointers, and most importantly two free throws in the dying seconds of the game. Curry's efforts helped Golden State pick up a 110-106 win over the Rockets.
Houston started the contest on a bright note as they sailed to a comfortable seven-point lead at the end of the first quarter. But, the Rockets could not continue the same performance, as Curry and Shaun Livingston put up a solid performance in front of a sellout home crowd, which had made the arena a sea of yellow.
Livingston played 29 minutes, stepping up his game by scoring an impressive 18 points.
The Houston Rockets did turn up against the Warriors, but they were just outplayed by Curry's brilliance. Pre-match, fans and experts were talking about the matchup between Curry and James Harden, who must have felt hard done by after missing the MVP award after an impressive regular season. Harden did deliver the goods with 28 points in game 1, but it was not enough.
Harden has already instilled fear with his showing as Klay Thompson looked in trouble while guarding the player. One of the highlights of the match was Harden's stepback shot over Thompson, who is one of the best defenders for the Warriors.
Coming into the game, many had predicted Warriors to turn triumphant with the regular season record reading 4-0 against the Rockets. But, the way Rockets played the first game, Warriors' route to the NBA finals might not prove to be an easy one.
Steve Kerr, Golden State Warriors coach, does not think that the regular season record means anything as the Houston Rockets had a different lineup due to injuries in their previous meetings.
"To me the regular season means nothing," USA Today quoted Kerr as saying.
"We haven't seen these guys since late January. I watched all the tapes the last few days. Every lineup was different.
"No (Pablo) Prigioni, Terrence Jones was out, Dwight Howard was out (for two of the games), Josh Smith was only there for a couple of games, all the line‑ups were sort of ‑‑ it was mix and match based on their injuries, based on some of ours, (Andrew) Bogut didn't play one game, Lee missed a couple of them."
" So I don't think the regular‑season record or the four match‑ups, I don't think they tell us a whole lot."
Click here to watch the Game 1 highlights between Warriors and Rockets