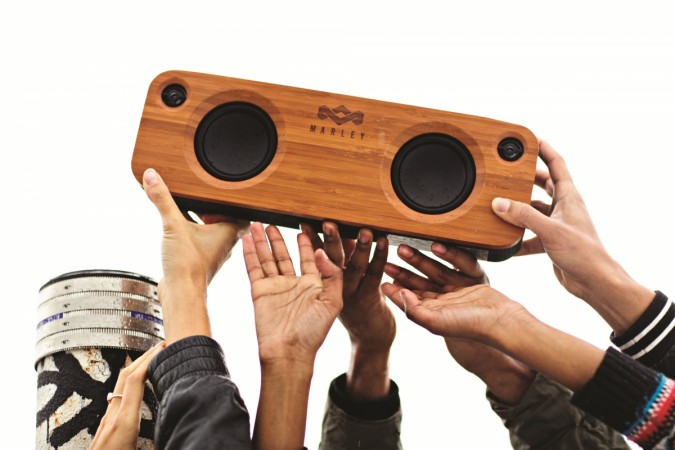 He died 33 years ago, but Bob Marley is still alive in millions of audiophile's hearts for his creations. In his memory, his son Rohan Marley has established a brand named "The House of Marley," which has already acquired good reputation for a few of their speaker and headphones.
On Saturday, the brand released a whole bouquet of audio products exclusively through Amazon India website.
Fixed out of natural bamboo and fabric the Get Together Bluetooth Portable speaker has a built-in rechargeable battery with bluetooth and 3.5mm port for connection. It consists of two 3.5-inch woofers and a 1-inch tweeter fitted in a bass reflex enclosure.
Another bluetooth speaker Liberate BT features a melding of metal, wood and upcycled fabric and can be used inside or out, in a small room or wide open spaces.
Liberate XL, the over-the-ear headphone consists of a 50mm drivers with cushions around for extra comfort.
On the occasion of launching a couple of bluetooth speakers and a headphone, Rohan Marley said "The House of Marley is not just about buying into a product but into a vibe. Music lovers across the world trust in the brand to give them the best music experience there is to offer. It's the vibe and energy of the products that has allowed it to become a favourite across the world."
On their collaboration with Amazon, Samir Kumar, director, category management, Amazon India said, "We are excited to be the partner of choice for the iconic brand 'The House of Marley' in India and offer our customers the opportunity to own its range of high-performance audio products during the ongoing festival season. We see this as a great opportunity to offer customers across India - the ease, convenience & joy of experiencing the brand that has legacy of music legend, Bob Marley.
The Get Together, Liberate BT and Liberate XL is available at Amazon.in at a retail price of ₹19990, ₹7990 and ₹9990 respectively.