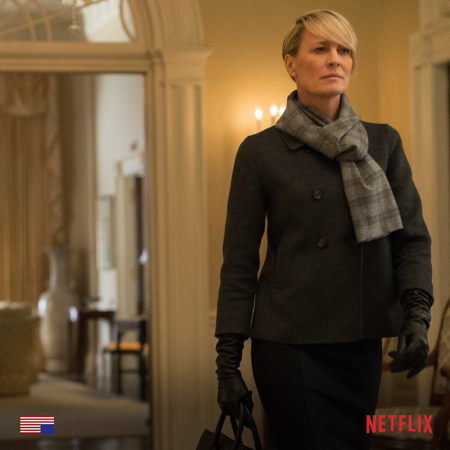 House Of Cards fans are desperate to know the story of Claire Underwood in season 6 since Frank is already out of the show.
Speculations are rife that the last season of Netflix political drama series will feature a change in character for the newly-elected president.
If fan theories are to be believed, the Kevin Spacey free season will feature Claire's transformation from a power-thirsty politician to someone who works hard for the society and the people.
Also read House Of Cards season 6 air date, spoilers: Netflix political drama to focus on first female President
A Reddit user said that the sixth and last season of House Of Cards will focus on the rivalry between the newly-elected president and Frank's loyal servant Doug Stamper.
Check out the interesting fan theory below:
Calling it right now that this is how they end it: Fade in to a funeral procession in a Gaffney, Soutth Carolina. Frank Underwood is dead, reportedly from complications related to his body rejecting his transplanted liver. President Claire Underwood is giving the eulogy for her departed estranged husband. She highlights his troubled presidency and makes no effort to sugercoat his crimes. She looks into the camera and confesses to the audience that she actually poisoned Frank, she never granted him the pardon he demanded and with her damning eulogy, she has robbed him of the one true end goal of his life, a meaningful legacy. The final season chronicles her consolidation of power as president, outmanoeuvring and out manipulating her duplicitous deep-state aides Mark Usher and Jane Davis and dealing with the last, ultimate antagonist of the series, Doug Stamper. All the while she attempts to reconcile the love she thought she had for Frank with all the horrible things she is now able to admit to herself that he did in his rise to power. Also she probably takes a Georgetown theatre arts professor as a lover or someone like that.
However, since the cast and crew of House Of Cards season 6 are tight-lipped about the plot, the fans will have to wait for an official statement from Netflix to know more about it.