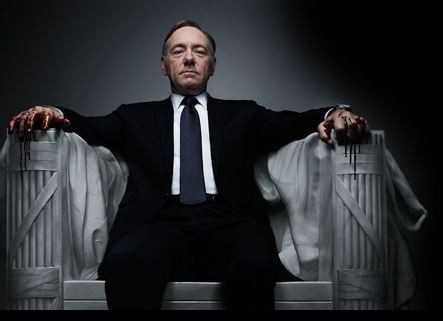 There have been several speculations regarding Netflix's political thriller, "House of Cards." The streaming network has revealed the cast, hinted at plot details and released teaser trailers for the upcoming season, leaving us to wonder who will be President Frank Underwood's (Kevin Spacey) new nemesis.
As the fourth instalment of "House of Cards" revolves around President Underwood's campaign for re-election, there is bound to be tension between him and several other big weights in Washington. A recently-released image on Netflix's Twitter account indicates just who might be a problem for him in Season 4.
The picture captures President Underwood and the newest addition to the cast -- Joel Kinnaman -- sitting across a table. Kinnaman's character seems to be as powerful as President Underwood, and if anything, the President seems wary while talking to him. The "Suicide Squad" star has an aggressive stance and the actor's body language indicates a civil confrontation between the two. Although President Underwood looks reserved, the picture depicts his quintessential character trait: aggression.
The reasons for President Underwood's hostility towards Kinnaman's character isn't clear yet, but perhaps it is because Kinnaman's character is influential, an invaluable asset in Washington. Fans of the show would remember that President Underwood has often weeded out those who oppose him. It remains to be seen Kinnanman's character will die at the hands of the President, just like Zoe Barnes (Kate Mara) and Peter Russo (Corey Stoll) did.
The recent teaser trailer for "House of Cards" Season 4 includes a chilling scene involving a car with a number plate that reads, "Underwood 2016: Whatever it takes." The running engine in the video is reminiscent of Congressman Russo's death in an earlier season of the show. This ominous message resounds in another trailer as well. The video clip is filled with scenes of Claire Underwood drowning; a knife slicing through an apple and President Underwood killing Barnes.
If this a foretelling of what's in store, we predict that President Underwood is bound to be more ruthless than ever while he is on a mission to get re-elected.
"House of Cards" Season 4 airs on Friday, 4 March 2016 on Netflix.