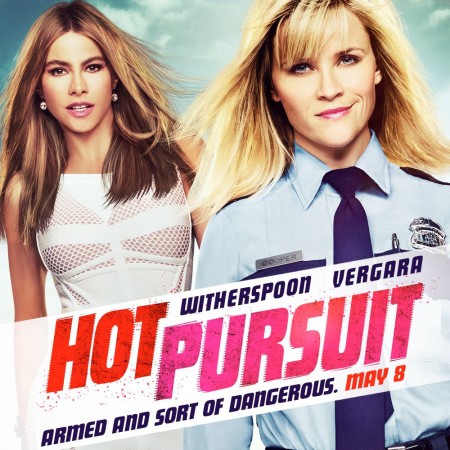 IB Times India Rating: 3
When it comes to movies like "Hot Pursuit", people always decide on downloading it - let's be honest, illegally - or watching it on TV. So this review, instead of ripping the movie apart and analysing every crucial information, will tell you why it could be a great idea to watch it on big screen.
It is always fun to watch a no-brainer movie with friends. Leave logic and reason before you enter the theatre and you are guaranteed to have a jolly good time.
Reese Witherspoon and Sofia Vergara have completely utilised the first chance they got at displaying physical comedy. Their contrasting body types make for the most hilariously awkward action scenes.
The "Modern Family" actress shows versatility in her acting, albeit for a brief moment. Taking a slight detour from her usual loud, sensual Colombian characters, she briefly takes on the role of a determined villain – or an anti-hero- and she is quite convincing.
Reese Witherspoon, the central character is hilariously convincing as the cop who is too focused on her job, that she cannot get a job done.
The chemistry between Witherspoon and Vergara is amazing. The lack of any unnecessary sentiments and baggage makes the story unique and intriguing.
Anne Fletcher has done a brilliant job at directing "Hot Pursuit" and keeping any sort of nonsense at bay. Both central characters are strong females who does not make anyone miss a "hero" in the plot.
If you like "The Heat" starring Sandra Bullock and Melissa McCarthy, you are definitely going to love "Hot Pursuit". Although the characters in both movies are completely different, they bring the camaraderie between women to light and proves that Foosball, beer or bachelor party aren't a must to make a buddy movie.
Live Updates ahead:
Till the ending, the narration was crisp and to the point. However it might have been dragged out a little too long in the end.
Vergara's character transformation was impressive for a second. However, it soon turned out to be all over the place.
Storyline as expected isn't anything extraordinary.
Witherspoon and Vergara are both proving to be masters of physical comedy.
Sofía Vergara is at her best as the loud, strong Colombian woman, who doesn't like taking orders from the "tiny" cop.
Resse witherspoon is very convincing as a no-nonsense cop, who unfortunately is so straight jacket that she doesnt get sarcasm or jokes. Unfortunate for her that is, whereas it is exhilaratingly hilarious for audience.
In Bangalore theaters and presumably all over india, the show up of audiences is poor.
"Hot Pursuit" is the story of how an inept police officer (Reese Witherspoon) tries to protect a drug dealer's widow (Sofia Vergara) from criminals and dirty cops. In the short span that viewers spend with the duo, they get into way too many troubles, trials and tribulations, that hopefully provide for a few laughs in theatres.
Trailer for the comedy gives glimpses of the Melissa McCarthy-Sandra Bullock-starrer "The Heat", although the dynamic between the duos in the movies differ.
The obvious jokes to be expected: Officer Cooper's (Witherspoon) apparent lack of effeminate behaviour, Daniella Riva's (Vergara) obsession with material things, Witherspoon's height and at least two lesbian jabs.
Regardless of the movie's contribution to box office collections, "Hot Pursuit" has the potential to open the doors to comedy films that explore the hilarious nuances of female friendships; or at least come up with the female counterpart to "bromance".
The film directed by Anne Fletcher will hit theatres worldwide on Friday, 8 May.
Stay Tuned for the Live Review of "Hot Pursuit".