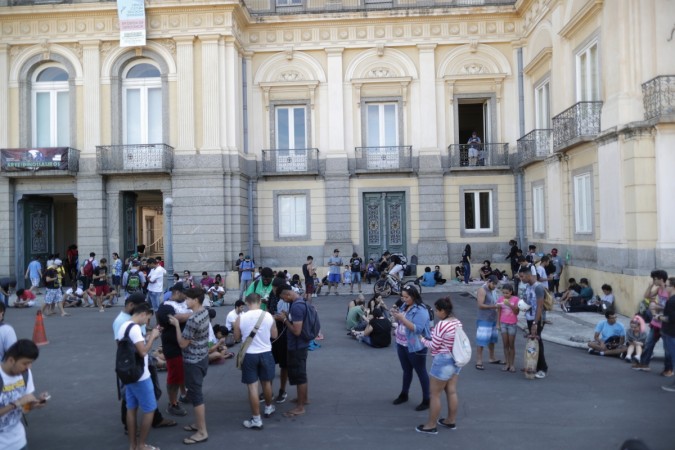 If you thought Rio de Janeiro park was full of sports fans talking about Michael Phelps bidding farewell to Olympic games on Saturday, better read this to find out why you weren't right.
Michael Phelps bowed out of Olympics after adding five gold medals and a silver, which took his total Olympic medal count to 28. However, people at the venue seemed more excited for some other reason. Hundreds of youths turned up with their mobile phones at the Olympic venue, hunting for virtual creatures, engrossed in "Pokemon Go", the augmented reality game that has become so popular that it rivals the Olympic Games, reported Reuters.
"I went to a football game to see Brazil play Sweden, but after Pokemon Go started I lost interest," a student at Quinta da Boa Vista park (an erstwhile garden of the Brazilian royal family) told the news agency.
Claro, Brazil's third largest mobile phone company, said around 2 million users have downloaded the game in the Rio area since the game's release on Aug. 3, two days before the Olympic games started.
"Pokemon Go" has even attracted an Olympics participant. Japanese gymnast Kohei Uchimura's international phone charges almost came at $5,000 after he downloaded the app in Brazil before the game was released in the country. Uchimura, dubbed as "Michael Phelps of gymnastics," however, claimed two gold medals in the Rio Olympics. He also defended his all-around Olympic title two consecutive times, the fourth man to accomplish this since since his compatriot Sawao Kato in 1972.
Nevertheless, "Pokemon Go" has taken over the sheen of the Olympic games.
"There is no interest in the Olympics here, just how to get to the next stop where there are the most Pokemon," Joao Carlos Barssani, a sociologist who was also engaged in the game, told Reuters.
"Pokemon Go" was designed to encourage people to go outdoors and meet new people similarly engaged in the game, according to John Hanke, the creator of the viral game. Fanatic players are even known to explore new countries in pursuit of rare Pokemon characters.
"Before I never left home. Now every time my mother wants me to do any shopping, I'm out the door," said Rafael Moura Barros, who thinks "Pokemon Go" could reduce obesity in Brazil, said.
A study published by Brazil's health ministry in 2015 reveals that Brazil had the third largest obese population among the BRICS countries while more than half the country's population had become overweight compared to 43 percent in 2006.