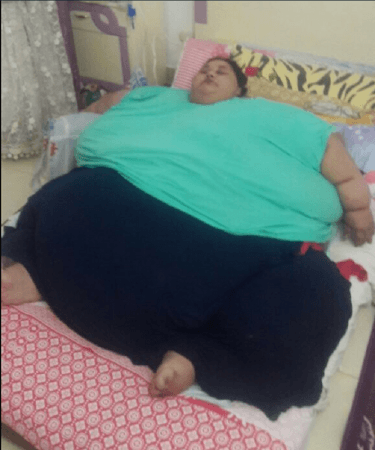 Ailing Minister of External Affairs Sushma Swaraj helped the world's heaviest woman, Eman Ahmed Abd El Aty from Egypt, to get a visa for a bariatric surgery in Mumbai after a doctor tweeted to her. Swaraj is still performing her duties as MEA despite being in hospital due to kidney failure and is waiting for a transplant.
Eman Ahmed, 36, a resident of Alexandria in Egypt is bed-ridden and weighs 500 kg. She was granted a medical visa by the Indian Embassy in Cairo after Swaraj intervened.
The medical visa was issued to her for a bariatric surgery after Dr Muffazal Lakdawala tweeted to Swaraj to help her to travel to India.
"Thanks for bringing this to my notice. We will definitely help her," Swaraj tweeted in response to the request.
The woman is supposed to be airlifted to Mumbai for the surgery.
"Embassy in Cairo called Visa granted.Thank you so much for this prompt response,impressed Appreciate the help @SushmaSwaraj @CODSIndia01," he tweeted on Wednesday.
"Now starts my tough journey to give this girl a second chance at life . Thank you Sushma Swaraj Ji. Weighing 500 kg, Egyptian woman to be airlifted to Mumbai for obesity surgery," he added.
Eman Ahmed has not left her house in 20 years due to her weight.
"For 20-year, she didn't step out of her house. Her family had tried many doctors there for medical help but were denied. It was her sister who got in touch with me after she heard of me from a family friend, who I had operated for obesity," Lakdawala told My Medical Mantra. "The family is poor and cannot afford the cost of a private chartered flight to Mumbai from Cairo. While we asked the family to make her passport and arrange for visa, I started collecting funds," he added.
Eman Ahmed was denied a visa to travel to India as she couldn't physically appear for verification, following which they got in touch with Sushma Swaraj, who rescued the day again.