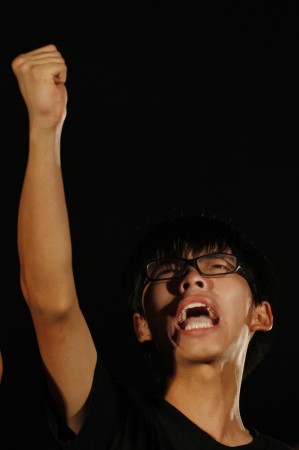 The student leader of the Hong Kong protests for democracy, Joshua Wong, was hauled away by the police on Wednesday on the 60th day since demonstrators started the 'Occupy' protests.
The police demolished barricades and cleared Mong Kok site of protestors with little resistance in about three hours, South China Morning Post reported.
Seventeen-year-old Wong is said to be the face of the protest and the student leader founded the activist group 'Scholarism'. Another student activist Lester Shum, from the Hong Kong Federation of Students, was also taken away by the police.
Hong Kong protest leaders arrested: https://t.co/WqW3VAoLNp (Via @Reuters) #OccupyHK pic.twitter.com/jCYlqnJn1B

— Andrew Peng (@TheAPJournalist) November 26, 2014
The police have said police that they will move on and dismantle the last remaining barricades in Mong Kok by Wenesday afternoon, in what seems to be the end of the two month-long protests for democratic elections.
Clearing last barricade at Dundas Street. Mong Kok occupation is over #occupyhk https://t.co/XuKaFEQZD6 — Kris Cheng (@krislc) November 26, 2014
Protestors had been demanding that the government's Chief Executive Leung Chun-ying step down from office and had threatened to occupy government buildings as part of the 'Occupy Central With Love and Peace' movement.
Thousands of residents have been protesting for fairer, democratic elections, after the Chinese government made a decision in August that all candidates for the 2017 elections should be approved by a special committee, which protestors claim comprises only pro-Beijing members.
Even as global pressure was building on China to give more autonomy to the people of Hong Kong, it unequivocally asked other nations to not interfere in the matter.