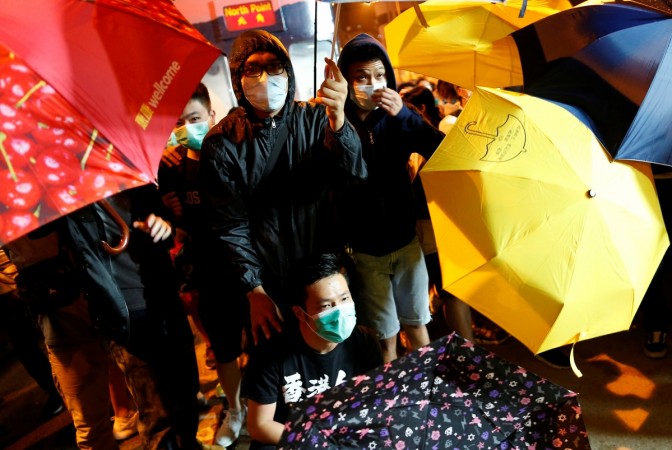 Hong Kong must brace for more political turmoil and street protests after two pro-Independence lawmakers were not allowed to take office on Sunday. Oaths taken by the two of the youngest legislators, Sixtus "Baggio" Leung and Yau Wai-ching, were rejected for inserting curse words and waving flags "Hong Kong is not China."
The move can be seen as Beijing's direct intervention in the city's politics since it was handed to China by the British in 1997. According to the Joint Declaration of the Government of the United Kingdom of Great Britain and Northern Ireland and the Government of the People's Republic of China on the Question of Hong Kong 1997, the socialist system would not be applicable in Hong Kong. In line with that, the youth in the city have been protesting violently for two years now for greater freedom from China.
Thousands of protestors took to the streets after the two youth leaders were stopped from taking office. Beijing has been criticised for flouting Hong Kong's legal system.
Wai-ching had said "People's Re-fu*king of Chee-na" during the swearing-in ceremony, to which the top leaders in China took offense.
"Reading the vows in any dishonest, ungraceful manner is also a refusal to the oath, and it shall be void," the ruling against them taking office said, according to state news agency Xinhua. They may not be allowed to retake the oath as well.
Those who take office must "sincerely and solemnly" declare allegiance to China, it said. The city's lawmakers have to swear allegiance to "the Hong Kong Special Administrative Region of the People's Republic of China", according to the Basic Law, the city's mini-constitution.
"Since the Legislative Council elections, some people have been advocating independence and saying they want to do it in Legco," Li Fei, chairman of the Basic Law committee at China's parliament, said at a press conference announcing the decision. "The interpretation today will help to defend national unity and sovereignty."
The decision by Beijing will be upheld by Hong Kong's leader, CY Leung. The Chinese government "is determined to firmly confront the pro-independence forces without any ambiguity," he added.
Pro-democracy leaders have opined that the clampdown will not be taken calmly by the youth and there will be further unrest and calls for independence from China.