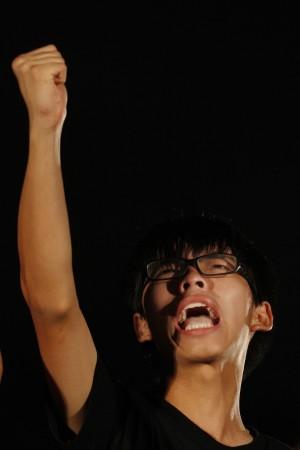 Hong Kong's student leader Joshua Wong announced on Monday that he will go on a hunger strike as part of the pro-democracy protests that have swept across the former British colony over the last two months.
Eighteen-year-old Wong, who founded the student movement called Scholarism, said he and two other members will not eat until Chief Executive Leung Chun-ying initiates dialogues on democratic elections.
Calling the government "indifferent" for ignoring the majority of Hong Kong's people and citing the "excessive use of force" by the police, the Scholarism group said on its Facebook page that the hunger strike was meant to demand "a real election".
Protestors have been demanding that the government's Chief Executive step down from office, and are calling for fairer, democratic elections.
Massive protests began after the Chinese government made a decision in August that all candidates for the 2017 elections should be approved by a special committee, which protestors claim comprises only pro-Beijing members.
On Monday, on the call of student leaders, hundreds of protesters escalated their 'Occupy Central' movement and surrounded government buildings, leading to a heavy police crackdown with pepper sprays and batons.
Last week, Wong and other student leaders had been hauled away by the police, and were released on the condition that they will remain away from the protest site in Mong Kok.
Wong will undertake his hunger strike at Tim Mei Avenue in the Admiralty area.