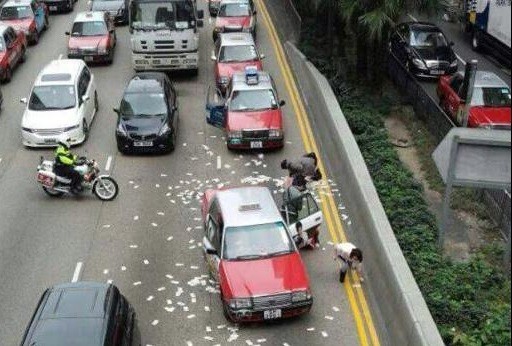 A cash-transport van carrying nearly two million dollars in cash spilled the notes in a road accident in Hong Kong, causing traffic to come to a halt as several people attempted to scoop the money.
Three containers carrying the cash reportedly fell out of the rear door of the van on Wednesday in Wanchai's Gloucester Road. A total amount worth HK$15 million is expected to have been lost.
The police have requested the public to return the money. "I would like to take this opportunity to appeal to every member of the public that if they picked up any money, they must hand it over to any police officer or at any police station as soon as possible," police superintendent Wan Siu-hong said, according to the South China Morning Post.
"If he or she keeps the money for his own use, he may commit an offence of theft which is a very serious crime under ordinance," he said.
According to witnesses, even 'regular-looking' people scrambled on to the road to take away handful of notes, as HK$500 bills lay strewn everywhere before authorities cordoned off the place.
"I saw a lady... She looked like a very regular Hong Kong lady. She had an armful of bricks of cash -- it was as much as she could carry. She just disappeared into the depths of Wan Chai," a witness told the newspaper.
SCMP also uploaded a video showing people getting out of cars to collect the notes. WATCH VIDEO HERE
Hongkongers get away with armfuls of cash as money truck spills load in Wan Chai http://t.co/uRiiiVtKM7 #HongKong pic.twitter.com/4Gbg8YLypa

— Coconuts Hong Kong (@CoconutsHK) December 24, 2014
PHOTO: Millions of dollars strewn across Hong Kong road after cash spill. pic.twitter.com/jKqmifgUTe

— Breaking News (@NewsOnTheMin) December 24, 2014
WATCH: People scramble for cash after road accident spills banknotes on busy #HongKong street http://t.co/Avz5RKrNfm pic.twitter.com/um5B6aD208

— SCMP VideoMoJo (@SCMPVideoMoJo) December 24, 2014