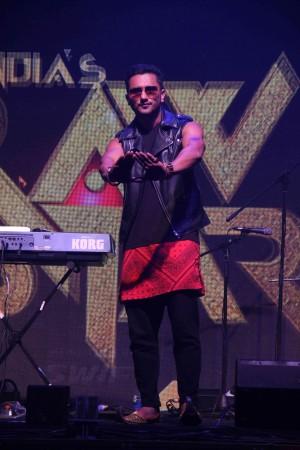 Yo Yo Honey Singh, who is currently shooting for his reality show, "India's Raw Star" at a suburban studio in Mumbai, has shown the audience a different side of him.
The popular rapper, dancer and now the mentor for the reality show was extremely nervous during the shooting on Monday night as his new album "Desi Kalakar" along with actress Sonakshi Sinha was to release the next day.
Unable to concentrate on multiple workload, the emotional singer then called his wife to support him on the sets. He even refused to resume shooting until she arrived on the set.
"He was very anxious as a result of which he couldn't shoot. And it resulted in a four-hour delay. Initially, we saw Honey talking continuously to someone over the phone. After some time he just packed his bags and got out of the sets. He was waiting for somebody and only when the person got out of the car, we realised it was his wife. Honey was so nervous that he refused to shoot till she came on the sets!" DNA quoted a source as saying.
It was only when his wife, Shalini arrived at the location and calmed him down, Singh looked confident and could resume his work. Concerned Shalini, after every performance by the contestants, would take the rapper backstage and make sure he is calm and composed.
Check out Honey Singh's wife Shalini on the sets of "India's Raw Star"
Yo Yo Honey Singh with his Wife !! pic.twitter.com/6c7ZlpI86e

— Honey Singh Quotes (@HoneySinghQuote) August 27, 2014
Apologizing to the audience for the delay, the "Lungi dance" singer, in an unplanned move called his better-half on stage and introduced her for the very first time, taking the audience by surprise.
The duo even shared a romantic moment on the stage, raising quite a few eyebrows of his fans.
"Today I have realised that Shalini is very important to me and right about everything. On her birthday (August 14), when I asked her what she wanted as a gift, she said she wanted me to listen to everything that she says. Today I make that promise to her," said the rapper.
Singh became so emotional that he even promised to concentrate more on the show and to rehearse with the contestants before the shoot.
Until now, Singh has never been comfortable speaking about his wife in public and hence only a few people knew that the hugely popular rapper who creates magic with his peppy numbers, is married.
Meanwhile, Singh's "India's Raw Star" intends to find the best rock star of India from 10 contestants whom the rapper has personally selected after several rounds of digital auditions. The show has received overwhelming responses since it was launched on Sunday, 24 August on Star Plus channel.
The "Aata Majhi Satakli" singer is seen in multiple roles in the show, as the contestants' mentor, friend and guide.