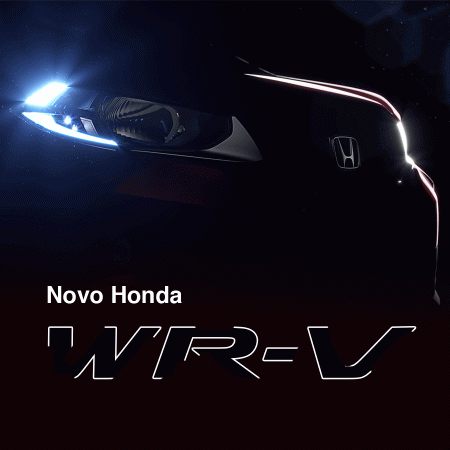 After releasing the sketch that illustrated the silhouette of Honda's new compact SUV, the WR-V based on the Jazz platform, the Japanese carmaker released another teaser image that sheds light on the face of the new SUV. The WR-V is expected to get globally unveiled at the 2016 Sao Paulo Auto Show that starts on November 8.
The crossover has been clicked under camouflage quite a few times in South America in the past months. The news teaser shows the headlamp cluster that includes C-shaped daytime running lamps. Squint eyes can also sport Chome grille extension reaching up to the bottom of headlamps. The grille will have a thick chrome slat in line with the Honda City sold in India. The previous sketch image had suggested that the WR-V will be a jacked-up version of the Jazz with off-road friendly add-ons.
The crossover seems to have also received a new tail lamp cluster, although the rear is not visible in the teaser or the sketch image. In the international markets, the WR-V will replace Jazz Fit Twist - jacked up version of the Jazz. WR-V is also expected to flaunt crossover traits such as roof rails, skid plate, body cladding and more.
The Jazz- crossover is likely to get a styling similar to the hatchback except for the addition of updated features. The WR-V is expected to carry the same engine as the Jazz hatchback. It packs the 1.2-litre i-VTEC petrol engine that powers the Amaze and the Brio. It can generate power of 90bhp with a torque of 110Nm at 4,800rpm. The other engine, a 1.5-litre i-DTEC diesel motor, can pump 100bhp of power with 200Nm torque.
The WR-V will be limited to South American market initially. The launch of the WR-V in India is expected to take place in March 2017.