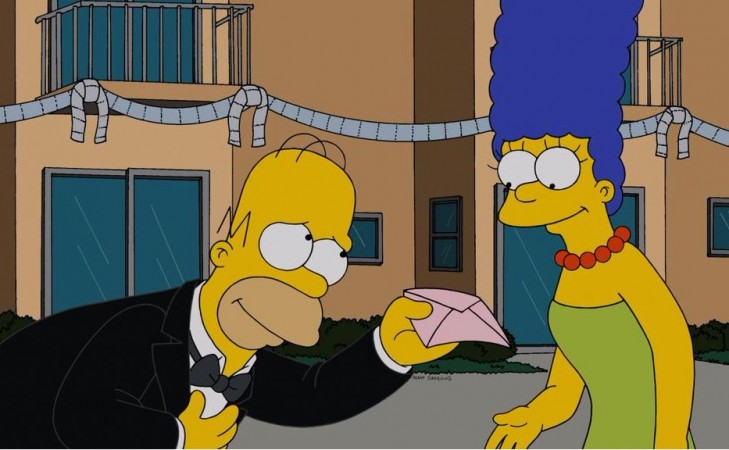 A recent tweet on the official Twitter page of "The Simpsons" suggests that the creators were just teasing the fans about Homer and Marge splitting after being together for more than 26 years in Season 27 of the show.
Earlier, "The Simpsons" executive producer Al Jean had said that the couple will legally separate after Homer falls in love with a pharmacist in the first episode of Season 27 of the series.
"In the premiere, it's discovered after all the years Homer has narcolepsy and it's an incredible strain on the marriage. Homer and Marge legally separate, and Homer falls in love with his pharmacist, who's voiced by Lena Dunham. We'll have cameos from the other women from Girls," Al Jean had told Variety.
But the official Twitter page of the show narrates another story altogether. Despite Jean's announcement about the split, the writers of the show have hinted that it could just be a tease.
The official Twitter handle of "The Simpsons" had tweeted a picture five hours after Jean's statement, showing angry Bart Simpson writing repeatedly on the blackboard: "Homer and Marge are not breaking up."
"RT and stop the rumours!" the new tweet read.
While the relationship status of the cartoon couple is still confusing us, the news is nothing less than an unexpected tragedy for "The Simpsons" fans.
The announcement has received negative response from fans, who have taken to social media to express their anger and despair.
Twitter page of SimpsonsQOTD is filled with responses of angry fans, who haven't taken the news of the cartoon couple splitting very well.
"Shite move. Whole point of the show is that Homer loves no one else but Marge," wrote Stuart Tomlin.
"ok now its just getting sad. The Simpsons are trying so hard to stay relevant but its just not working. The show needs to end," tweeted Sam Sweeney.
"Homer and Marge to separate?! I'm done with the Simpsons," wrote Anthgennac.
"Homer and Marge will separate. Guys. The Simpsons doesn't need to continue. It was great in its day. It's over." Nifkinjuice expressed.
So, what do you think will be the future of Homer and Marge's marriage in Season 27 of "The Simpsons"?