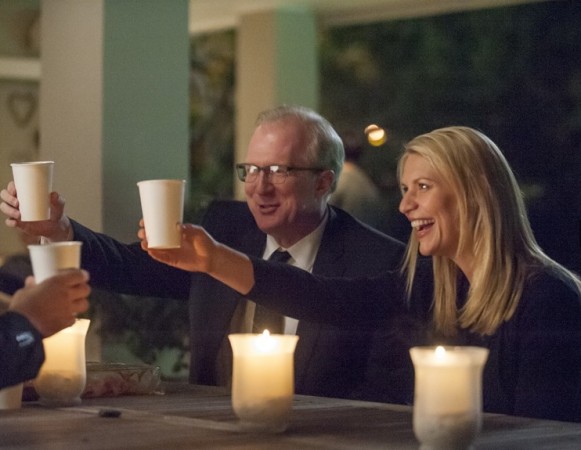 "Homeland" Season 4 returns on Showtime with its finale titled "Long Time Coming" on Sunday at 9pm and will focus on the battle between CIA and ISI.
In one of the sneak peek images of the upcoming episode, CIA officers, including Carrie Mathison (Claire Danes) and Senator Andrew Lockhart (Tracy Letts), are seen spending some joyful time together. They could be celebrating their victory against the Taliban terrorist.
If so, then Peter Quinn (Rupert Friend) can surely get rid of the Taliban flag that has been waving over his head ever since the American officers began their battle against Haissam Haqqani (Numan Acar) and his team.
But Quinn and Saul Berenson (Mandy Patinkin) are not seen in the promotional photo. Are they still part of the CIA team or will they make an exit from the show?
Several fan theories suggest that Quinn will be killed by the terrorists in the finale of "Homeland" season 4. According to Sharp Hawkey, Quinn's mission against Haqqani could probably be "a set-up from Dar Adal to have the CIA officer killed in the line of duty to protect himself and his plans from any kind of revenge that might come his way".
With regard to Berenson, fans of Showtime's political drama are of the opinion that he will be a replacement for Lockhart after the senator is forced to step down from his position as a director.
Meanwhile, the finale will also revolve around Aasar Khan (Raza Jaffrey), Max (Maury Sterling) and Mira Berenson (Sarita Choudhury) among others.
Watch this Sunday night's episode of "Homeland" season 4 finale on Showtime at 9pm to know more about the series. The show will be live streamed here.