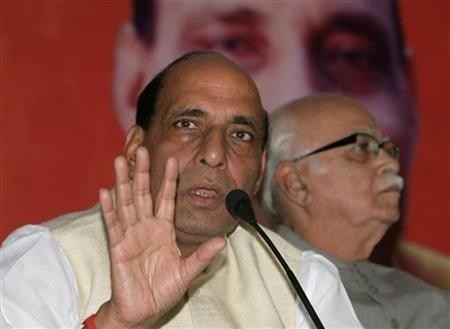 Indian Home Minister Rajnath Singh will soon visit border areas of the country to learn about the existing ground realities.
Singh reportedly wants to visit the Indo-China border and has told this to the chief of the forces. The paramilitary has now been asked to make arrangements for Singh's visit to the border terrains.
As the Union minister is eager to visit Indo-China borders first, the Indo-Tibetan Border Police (ITBP), which guards India's borders with China, is making arrangements for Singh's visit to Ladakh and Arunachal Pradesh. ITBP guards Indo-China border from Karakoram Pass in Ladakh to Diphu La in Arunachal Pradesh, a distance of 2,488 km.
Some terrains in the borders with China are said to be inaccessible, even aerially. Considering this, and keeping in view the recent aggressive moves by China in the border areas, the new Union government, led by Prime Minister Narendra Modi, aims to improve road connectivity and other required infrastructure to strengthen the country's border security system.
Many posts in Arunachal Pradesh and Ladakh border areas are said to be very remote. The forces walk for miles for about 10-21 days to reach some of these areas and have to battle with treacherous terrain in dense forests.
"The home minister can be flown to Ladakh and Leh but several parts of Arunachal Pradesh would be inaccessible even aerially. Also, rain is round the corner and navigating in such weather to the Arunachal is a difficult task," The Times of India quoted an ITBP officer.
The border police feel that Singh's visit to the difficult terrain will help the government understand how underdeveloped the area is and in what condition the forces guard the borders. There will be much scope to push infrastructure projects, especially roads, in the region.
The other key border area for India is on Bangladesh-side, which is currently safeguarded by the Border Security Force (BSF). Singh is said to be keen to visit the country's eastern borders with Bangladesh as the BJP-led NDA government has taken a tough stand against illegal immigration into India. The Home Minister is said to be concentrating on these illegal straying of Bangladeshi citizens.
BSF hopes that the Minister's visit to Indo-Bangladesh borders will help the government take a clear stand on the land boundary agreement and border fencing with the neighboring country.