Union Home Minister Rajnath Singh broke protocol on Thursday to hug Border Security Force (BSF) constable Godhraj Meena, who sustained 85 percent disability after being hit by terrorists' bullets during an attack in Jammu and Kashmir's Udhampur in 2014.
The constable's bus, which was part of a BSF convoy, was ambushed by terrorists on August 5, 2014 near the 'narsu nalah' area in Udhampur with a heavy gunfire. Meena's citation said that he was on guard duty in the bus, and his bravery and acute presence of mind kept the two terrorists away. The 44-year-old trooper also succeeded in thwarting the militants' attempt to enter the bus and target around 30 BSF personnel who were on board that day.
Meena received applause from the officials and jawans present, when the Home Minister pinned the gallantry medal on his chest. The constable is unable to speak properly as one of the bullets had pierced his jaw. After receiving the medal, as Meena attempted to accord a mandatory salute, the Home Minister hugged and patted him and saw him off the dais with a firm handshake.
According to the BSF protocol, after pinning the medal and handing over the trooper's citation, the home minister has to shake hands with the awardee and the person moves ahead after according a salute to the minister. However, Singh, in a rare gesture, stepped aside from the protocol on Thurday to embrace Meena.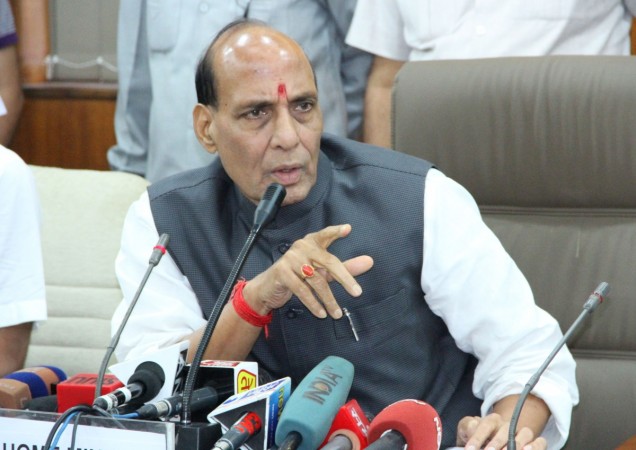 "What we saw today is rare, very rare. This is only in very special cases like that of Meena who has suffered 85 percent disability after the attack. He is not able to talk and walk properly but despite this, he dons his uniform with pride," a senior officer said.
The officer added that Meena has been appointed to administrative duties. The home minister, later during his speech, said he was proud of Meena's bravery and his grit.
A total of four BSF personnel, including Meena, were awarded gallantry medals. Others included constable Subhendu Roy, driver Daljit Singh and constable Rocky who was awarded 'Shaurya Chakra'.