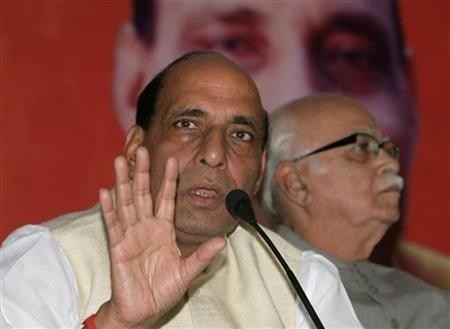 Home Minister Rajnath Singh on Friday dismissed any possibility of dialogue with the Left Wing Extremists and said that the ministry will work towards tempting them to surrender.
Singh met chief secretaries, DGPs, and chiefs of CRPF and BSF from 10 states—Chhattisgarh, Jharkhand, Bihar, Odisha, West Bengal, Madhya Pradesh, Uttar Pradesh, Maharashtra, Andhra Pradesh and Telangana and assured that these states would be provided with funds to deal with the issue.
"There is no question of any talks now. We will take a balanced approach. But the forces will give a befitting reply if the Naxals launch attacks," Indian Express quoted Singh.
A home Ministry official reportedly said that a conversation is only possible when the Maoists willingly give up their arms and come forward to talk.
To ensure that the Maoists surrender and give up violence, Gadkari has added two new strategies to P Chidambaram's plan, which he introduced during the time he held the office of Home Affairs.
While Chidambaram had introduced security and development to fight Maoism, Singh has added land for tribals and "perception management" to the list.
Singh's second strategy "perception management" needs "publicity blitz" and many other ways to divert youth from Maoism, according to Telegraph. For this, documentaries and jingles are being made in the Gondi dialect, most prominent in Chhattisgarh and surrounding states, which are critically affected by Maoism. Additionally, Doordarshan and All India Radio will air ads asking them to surrender and join hands with government towards their development.
Singh also suggested the states to propose "attractive surrender packages" to the rebels.