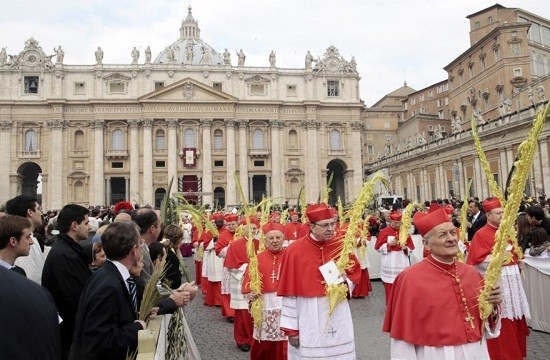 Holy Week 2015 begins on Palm Sunday, 29 March and ends on Holy Saturday, 4 April. It is the last week of lent season or the week before Easter Sunday. Christians around the world commemorate the Passion of Christ during Holy Week which also includes Holy Wednesday, Holy Thursday and Good Friday.
Holy Week is special for Christians as it marks the last days of Jesus Christ on earth. According to the Bible, Jesus rode on a donkey into Jerusalem on Palm Sunday, washed the feet of His disciples on Holy Thursday and was crucified on Good Friday before resurrection on Easter.
Christians observe the week in penance, fasting and sending good wishes to friends, relatives and loved ones.
Here are 10 inspirational quotes, sayings and reflections of Holy Week:
1) "Jesus my Lord, let me strengthen my courage by taking on the courage of all those people who have been "centurions" for me. Many have faced disasters and hard times with great constancy. The upper hand of evil never turned them against you. They kept going. Let me be like them, Lord. No matter what the cross, let me never stop declaring you to be "truly the Son of God, the source of my hope, the reason why I will never quit on life." – Prayer for Holy Week from Catholic Online
2) "Life is a precious gift, but we realize this only when we give it to others." – Pope Francis
3) "When Christ entered into Jerusalem the people spread garments in the way: when He enters into our hearts, we pull off our own righteousness, and not only lay it under Christ's feet but even trample upon it ourselves." — Augustus Toplady
4) "The closer a person is to God, the closer he is to people." – Pope Benedict XVI
5) "Merciful God, release us from the time of trial and oppression that we may witness to the eternal hope of grief becoming joy and life rising from death. Amen." - Unknown
6) "We want to avoid suffering, death, sin, ashes. But we live in a world crushed and broken and torn, a world God Himself visited to redeem. We receive his poured-out life, and being allowed the high privilege of suffering with Him, may then pour ourselves out for others." – Elisabeth Ellio
7) "Awake, thou wintry earth - Fling off thy sadness! Fair vernal flowers, laugh forth Your ancient gladness!" - Thomas Blackburn, "An Easter Hymn"
8) "God in His infinite goodness sometimes sees fit to test our courage and love by depriving us of the things which it seems to us would be advantageous to our souls; and if He finds us earnest in their pursuit, yet humble, tranquil and resigned to do without them if He wishes us to, He will give us more blessings than we should have had in the possession of what we craved." — St. Philip Neri
9) "He takes men out of time and makes them feel eternity." - Ralph Waldo Emerson
10) "The difference between the law and the good news of Jesus is not that law is about dry duty and Jesus is about heart-felt affections. They are both about love. It's just that the law only describes the life of love. The good news of Jesus, when trusted, actually produces it." – Glen Scrivener