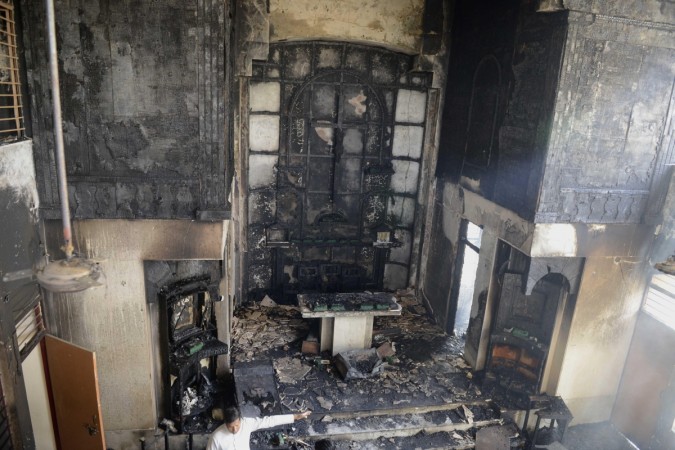 Weeks ahead of Christmas, a Catholic church in Delhi's east area was gutted after a fire broke out early on Monday morning. The parish community suspects involvement of miscreants.
The Saint Sebastian's Church in east Delhi's Dilshad Garden area caught fire at around 7:15 am and reduced the altar, statues, the holy Bible and the Cross to ashes, leading to a loss of ₹1 crore. The guard, who took a 30-minute break for breakfast, informed the Delhi Fire Service and the caretakers about the fire after returning, according to Hindustan Times report.
"We all rushed to the spot and found flames coming out of the prayer hall on the ground floor and the balcony on the first floor. Almost everything was gutted. Nothing is left inside the building. The place where the Bible and other prayer things are kept has been completely destroyed," media director of the Delhi archdiocese Father Stanley told IANS.
One of the caretakers of the church told IANS that it was not an accident and some unidentified people deliberately burnt down the holy structure.
"The windows were broken and some inflammable substance has also been detected by police. It appears that the fire was started intentionally. It might be the handiwork of some miscreants," the caretaker said.
Even Father Stanley believes the incident as arson, "the altar, sacristy and the first floor balcony of the church has been gutted. It seems to be a deliberate act as we could smell kerosene in the area," PTI reported.
Church authorities believe the holy structure was set on fire in an attempt to trigger "religious polarisation ahead of the Delhi polls", which will be held early next year.
Though the police have registered a case under Section 436 IPC (mischief) on receiving complaint from Delhi Catholic Archdiocese, they are still looking "at the angle of a possible short circuit." In the meanwhile, they are awaiting forensic lab report to establish the real cause.