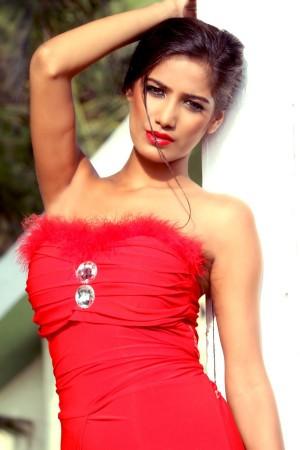 Indian model Poonam Pandey, who has set the industry and the twitter world on fire with her bold moves and tweets, is all set to make her Bollywood debut with director Amit Saxena's film in the coming year.
It seems like the producers of Poonam debut venture are pulling out all the stops to ensure that the leggy lass' moves are captured to perfection on celluloid.
The film will be presented by Industry veterab Kumar Mangat and Eagle Home Entertainment. The production house also has roped in Hollywood Cinematographer James Fowlds to the fold.
Fowlds has over 30 titles under his belt and has also worked as the director of photography for the film "Lamhaa: The untold story of Kashmir". He has shot for titles like "Dark Hunters", "Duplicity" and "Absolute Power" to name a few.
Actor Poonam Pandey has been working hard in workshops with the film unit for the last few weeks. The film is set to go on floors in September, and is expected to be completed on a super strict schedule.
Meanwhile, Poonam has been painting Twitter town red with her bold pictures and sneaky peaks into her bathroom sessions. The sessions on Twitter are just the trailer of what audiences can expect to see in the bold version of Poonam's debut. And with the best man in the business to capture her bold moves, cinemagoers will be in for a treat.
The 21-year-old strip queen had earlier promised her fans the most sexiest sex scene in her debut film.
"Sex was never as neat as the movies made it. Real sex was messy. Good sex was messier. But in my Debut Film its gonna be the Best," she had posted on her Twitter account.