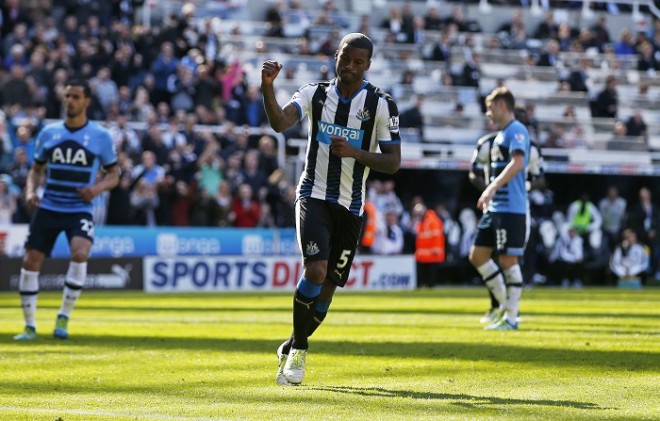 When Newcastle were relegated from the English Premier League, even if Rafa Benitez were to stay as the manager for a season in the Championship – as it proved to be -- it was inevitable that some of their big players would leave. Andros Townsend is one of those players to have already left the club, with Moussa Sissoko and Georginio Wijnaldum expected to follow.
While Sissoko has been recently linked with a move to Borussia Dortmund, it looks like Wijnaldum is set for a stay in England, specifically Liverpool.
Wijnaldum had caught the attention of Mauricio Pochettino at Tottenham as well, but after Newcastle set the asking price for the former PSV Eindhoven midfielder at £25 million, it looks like Liverpool have a clear run, with Spurs dropping out.
According to the Telegraph, who cite reports in the Netherlands, Liverpool have already agreed to pay the fee and Wijnaldum has been pencilled in for a medical.
With Jurgen Klopp keen to make changes to his squad and bring his own ethos in his first full season at Liverpool, who were also linked with a move for Sissoko, there are a few ins and outs expected, and Wijnaldum's signing could prove to be a really good one.
The Holland international gives you that goalscoring option from midfield, while also having the quality to make the late runs which can cause mayhem in the opposition defence. Wijnaldum might have blown hot and cold in his first season in England, but there is no doubting his quality and with a world-class manager in Klopp to guide him, the Dutchman could prove to be a really astute signing.
As Klopp continues to bring in new faces – Estonia defender Ragnar Klavan is reportedly close to completing a move from Augsburg for £4.2 million – there will be a few exits as well, chief of them being up front, with both Christian Benteke and Mario Balotelli expected to leave.
Indeed, Klopp has made it clear to players on the fringes that it would be best for them to look for another club before the summer transfer window shuts at the end of next month.
"It makes no sense to stay in the squad and be in the squad when you don't have a real opportunity to play," Klopp said after Liverpool preseason victory over Wigan. "When there's no chance to play, it makes absolutely no sense.
"We have a few players, maybe who want to leave us and I am pretty sure it will happen – and one or two more players will join us from other clubs. It's a long time until the 31st of August and we have to work a little bit."
Balotelli has been tipped for a move back to the Serie A, while Benteke has received interest from West Ham and Crystal Palace, with the latter seeing several bids knocked back by Liverpool.