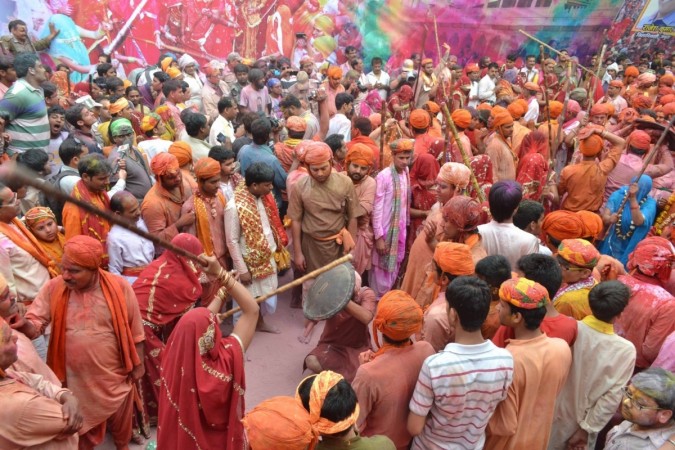 Like every year, Indians across the world are gearing up to celebrate the festival of colours, Holi, which falls on March 23. While millions of people celebrate the festival by smearing colours on each other, there are several places in India where it is still celebrated in traditional manner.
Here are six destinations in India, where Holi is celebrated in a unique way:
Lath-Maar Holi, Barsana (Uttar Pradesh): It is a unique and traditional way of celebrating Holi. The women of Barsana village, which is close to Mathura, use stick to hit the men from nearby Nandgaon village. Lath-maar Holi takes place around a week before the main day of Holi. A large crowd gathers in the village to see the unique way of celebrating the festival.
It is believed that on this particular day, men of Nandgaon (the land of Krishna) come to play Holi with the girls of Barsana (the birthplace of Radha). But instead of colours, the women of the place welcome them with bamboo sticks or lathi.
Basant Utsav, Purulia, West Bengal:
The three-day festival takes place in Purulia district of West Bengal. People from different cities visit the place and enjoy with the locals by singing, dancing to the local Jhumur tunes, smearing aabir (colours) on each other and drinking Mahua (country liquor).
Basantotsava, Santiniketan:
It was a tradition started by reknowned poet Rabindranath Tagore at Shantiniketan in West Bengal. The celebration includes, students displaying their talents and dancing to Rabindranath Tagore's songs in cultural programmes. This is followed by the usual exchange of colours.
Mathura and Vrindavan:
Mathura, the birthplace of Krishna, and Vrindavan also celebrate Holi for a week. Visitors pay a visit to religious places, including the famous Banke-Bihari Temple.
Anandpur Sahib, Punjab:
Hola Mohalla, founded by Guru Govind Singh, is an annual fair in Punjab. It is also a three-day event where one can enjoy music, poetry. The local Sikhs display their skills in sword fighting, wrestling and other physical activities.
Royal Holi, Udaipur:
Udaipur celebrates Holi in a grand manner. Holika Dahan, on a day before Holi, is celebrated by burning hundreds of pyres across the city. Udaipur's Mewar royal family celebrates the festival with a procession, which takes place from the royal residence to Manek Chowk, City Palace.