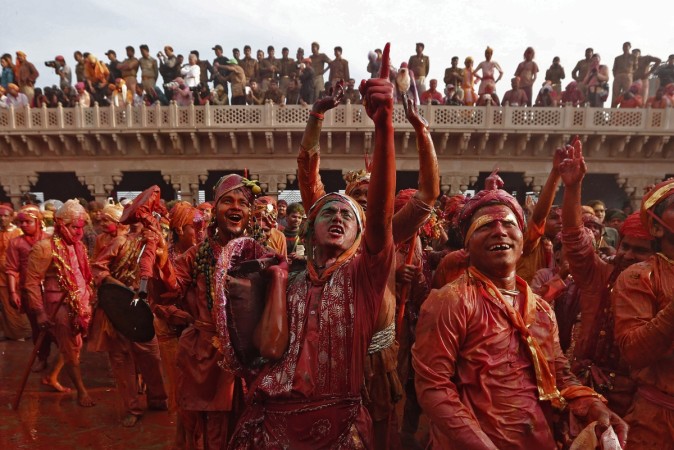 Holi is one festival celebrated in various ways in different cultures across India. From Dol Purnima in Bengal, Warrior Holi in Punjab to the Yaosang Festival in Manipur, this year, Explara.com has listed out 12 such interesting Holi celebrations and how uniquely the festival of colours was celebrated in various parts of the country.
Warrior Holi in Punjab
Tough, colourful and full of energy — just like its people, Punjab celebrates Holi in complete warrior style. There is a display of physical strength by the men, wherein they exhibit kushti and other martial arts and shout their hearts out before the colours come out in the evening. The festival is also known as the Hola Mohalla or simply Hola.

Human Pyramid Holi in Haryana
A human pyramid is formed to break a pot of buttermilk, hung high up in the streets, even while people throw water on the contestants, who are trying to break the pot.
Kaamanana Habba Holi in Karnataka
Kaamanana Habba is celebrated in Mysuru, where, as per customs, boys steal logs and cow dung cakes from neighbours during the day while girls stay home helping mothers make holige to be offered to Kamadeva, the God of Love. At the end of the day, children set the stolen items on fire and dance around it singing "Kaamana Kattige, Bheemana Berani!"
Phakuwa Holi in Assam
The Assamese celebrate a version of Holi known as Phakuwa, which is similar to the Holi in Bihar and West Bengal. Holi here is a two-day affair — clay huts are burnt on the first day, signifying the legend of Holika Dahan, and people play with colours and have fun singing and dancing on the second day.

Holi in Kerala and Andhra Pradesh
While Holi celebrations may not be as popular down South as they are in North India, they are quite unique. People in Andhra Pradesh celebrate by singing folk songs of the Banjara tribe, dancing and playing with colours on the streets. In Kerala, they call it the Manjal Kuli or Turmeric Bath, which they celebrate in the Konkani temple of Gosripuram Thirumala.

Braj Holi in Mathura
This is one of the coolest Holi celebrations, taking place in the Braj region of India which includes Mathura, Vrindavan, Barsana and Nandgaon. Holi celebrations here take place for over a month and the main attraction here is the lath mar Holi of Barsana, where women from the Nandgaon village beat up the men with lathis.

Kumaoni Holi
Taking place for over two months, Kumauni Holi is celebrated in various forms known as Baithaki Holi, Khadi Holi and Mahila Holi.
Manipuri Holi
Known as the Yaosang festival, Holi in Manipur is celebrated like the rest of the country, but with local dances and music. They begin celebrations on the full moon day of lamda, and if visitors get to witness exotic dance forms like the thabal chongba and rasa lila.

Dol Purnima or Basanta Utsav in Bengal
This is a week-long celebration with song, dance, music and dry colours everywhere. The Bengalis have a way of making this festival aesthetic, classy and fun at the same time.
Goan Holi
In Goa, Holi is a part of the Shigmo spring festival, one of the major festivals of Hindus in Goa. You will get to see an array of traditional folk and street dances celebrated by farmers and rural population.
Holi in Maharashtra and Gujarat
Following in the footsteps of Haryana, Holi in Maharashtra and Gujarat are not too different. In these states, there is a grand procession of men soaked with coloured water walking through the streets yelling at houses to protect their pots of butter from Lord Krishna.
The human pyramid competition takes place here too, with songs, sweets and colour flowing everywhere.
A techno Holi in Delhi
The techno Holi in Delhi witnesses a myriad of EDM music fests and round-the-clock celebrations. There is a lot of alcohol, music playing loud and colour being thrown everywhere.