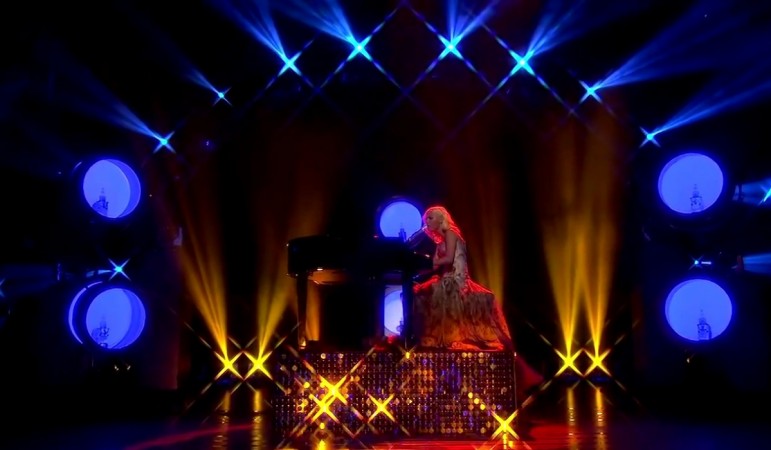 "American Idol XIV" 2015 is down to three contestants. As expected, Rayvon Owen, who survived six times after being placed in bottom three/two consecutively, was sent home Wednesday. However, his departure might come as a disappointment to many following his solid performance Wednesday which was unfortunately not considered for the final results.
The finalists performed three songs each chosen by judges, Scott Borchetta, and hometown Wednesday, based on which one more will be sent home next week, while the remaining two will be in for a showdown on 13 May.
Recap:
Rayvon Owen kicked off the night with Jason Derulo's "Want to Want Me" and it was a good performance with beautiful falsetto. He lacks a little in high notes and emotion but it was a good rendition over all. His second song, "As" by Stevie Wonder was even better and could well be one of the best performances of the night. He took on Joe Cocker's "You Are So Beautiful" for his final performance. It was another good performance, making the song his own.
Clark Beckham's first song was U2's "Beautiful Day" but it was an ordinary rendition with cracks in his voice. However, he improved tremendously in his second performance of the night, taking on Otis Redding's "(Sittin' on) The Dock of the Bay." His final rendition – The Weeknd's "Earned It" – was also good though not his best performances this season.
Nick Fradiani kicked off with Patti Smith's "Because the Night" and it was a good performance. He sang with so much passion though some may argue that he should have made the song his own. His second rendition - Andy Grammer's "Back Home" – was one of the best performances on Wednesday. He took on the song, "I'll Be" by Edwin McCain for his final performance, and it was another good rendition.
Jax sang The Who's "My Generation" and it was a rocking performance. She sang with lots of conviction and it turned out beautiful. Her second song was Evanescence's "My Immortal," which she had twitted earlier that she would dedicate it to her late friend. It was a beautiful rendition with right amount of emotion and control. Her third song was Paramore's "Misery Business" but it was very unlike her previous performances. It was an ordinary rendition and no doubt her weakest performance of the night.
Going by their performances Wednesday, it looks like Clark Beckham will follow Rayvon Owen and leave the show next week. He didn't sound very convincing unlike in the previous weeks and could be in danger of being eliminated. However, it is the American audience, who will decide the fate of the remaining contestants, so anybody can be sent home.