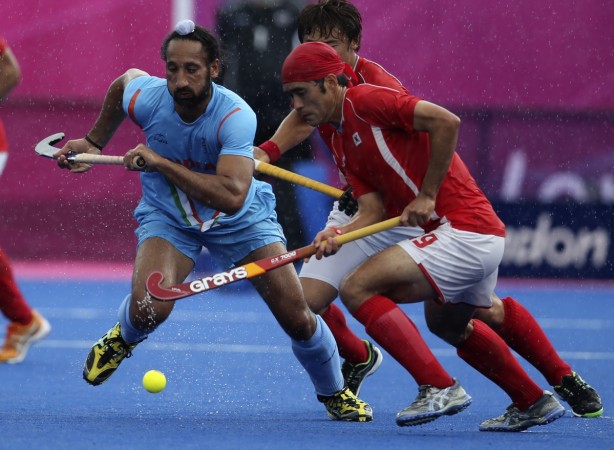 There is a new-found self-belief amongst the hockey players of the India team under coach Paul van Ass, as they came back from 1-2 to win their quarterfinal contest against Malaysia 3-2 in the ongoing Hockey World league Semifinal in Antwerp, Belgium.
The Indians started the game brilliantly and their constant pressure in the first few minutes paid dividends as they look the lead on three minutes via Satbir Singh's tap in. But, trailing behind, Malaysia showed a lot of character and attacked India mostly through the middle.
With just seconds remaining before the first quarter hooter, the Malaysians secured a penalty corner, which Razie Rahim converted to make it 1-1. The second quarter also witnessed an aggressive approach from both the sides, where it was an end-to-end game with both teams getting a fair share of their chances in the second quarter. But it was Malaysia, who took the lead via Shahril Saabah's penalty corner goal.
The third quarter failed to produce any goals, but India, who were determined to progress in the semifinals of the competition, were bright and looked the better side.
Great teams are characterised by how well they perform when the chips are down and India stood up to that test by overwhelming Malaysia in the final quarter.
India have had problems converting penalty corners throughout the competition, but when India got them in the fourth quarter, Jasjit Singh stepped up and converted two penalty corners in the 49th and the 56th minutes, either sides of the Malaysia goalkeeper, to seal a place for India in the semifinals.
India will play hosts Belgium in the last-four match.
Though India progressed into the semifinals of the competition, neighbours Pakistan were defeated by Great Britain in the other quarterfinal. With this loss, Pakistan have lost their golden ticket to Rio Olympics.
Great Britain looked a better team initially and they were ahead by two goals in the first ten minutes of the game. Chris Griffiths and Alistair Brogdon scored in the opening minutes for GB. Griffiths' goal needs a special mention, as it was a prime contender for the goal of the tournament.
Griffiths pulled off an amazing goal after receiving a long ball inside the circle. He just took one touch and hit the ball from an impossible angle to hit the roof of the net with some power. Despite contant pressure from both sides in the second and third quarter, no goals were scored.
The last quarter saw Pakistan's best moments in the game, where they even came up with a goal in the 48th minute. They came close in the latter end of the quarter as well, but Great Britain's first quarter goals were enough as Pakistan lost the game 2-1.
Great Britain will meet Australia in the other semifinal.