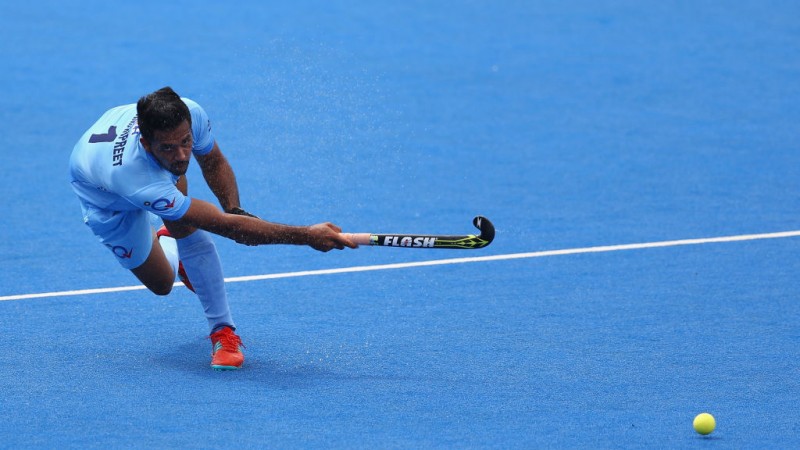 The third edition of Hockey World League Final will be played at the Kalinga Stadium in Bhubaneswar, Odisha between Friday, December 1, and Sunday, December 10.
Eight top-ranked teams, including hosts India, will take part in what is expected to be the final edition of the league, which will be replaced by a new league in 2018, according to the International Hockey Federation (FIH).
While Netherlands (hosts), Australia and Argentina have already qualified for next year's FIH Champions Trophy, the upcoming tournament in India will provide an opportunity for the other teams to make it to the eight-team tournament in Breda.
Notably, all eight teams have qualified for next year's World Cup, which will also be held in Bhubaneswar and thus the HWL Final will prove to be a good exposure for the teams to get a feel of the conditions.
Teams (FIH ranking inside parenthesis)
The eight teams have been divided into two groups of four each.
| | |
| --- | --- |
| Pool A | Pool B |
| Argentina [1] | Australia [2] |
| Belgium [3] | England [7] |
| Netherlands [4] | Germany [5] |
| Spain [9] | India [6] |
Tournament format
Each team will be involved in a single-legged round robin group-stage format, thereby playing a total of three matches before the quarter-final stages.
All eight teams will qualify for the last-eight round, regardless of their results in the group stages. The winner of the quarter-finals will move to the last-four round, while the losers will play each other for placings.
Past champions and favourites
Netherlands won the inaugural title in 2012/13, while Australia head into the ongoing competition as defending champions. India, who also hosted the previous two editions, managed a third-place finish in 2014/15.
Max Caldas-coached Netherlands once again start the tournament as favourites after having won the Hockey World League semi-final in London in June and the EuroHockey Championships in August.
World number one Argentina, who finished fifth at the last edition, will look to assert their dominance over the rest of the pack. On the other hand, holders Australia will be eyeing to get back to the top spot in FIH rankings with a good show in the coming days.
Hosts India, buoyed by their Hockey Asia Cup win earlier this year, will be looking to build on their success under newly-appointed coach Sjoerd Marine.
Live streaming and TV coverage
India: TV: Star Sports 1/HD; Live streaming: Hotstar

Argentina: ESPN Sur, YouTube PPV

Netherlands: NOS and Ziggo

Belgium: Telenet, YouTube PPV

Spain: YouTube PPV

Australia: TV: Fox Sports; Live streaming: Foxtel Watch

Germany: DAZN

England: BT Sport

Rest of World: YouTube PPV
Full schedule
| | | | |
| --- | --- | --- | --- |
| Date | Match | Pool | Time |
| December 1 | Germany vs England | Pool B | 4:45pm local, 11:15am GMT |
| . | India vs Australia | Pool B | 7:30pm local, 2pm GMT |
| December 2 | Argentina vs Belgium | Pool A | 12pm local time, 6:30am GMT |
| . | Netherlands vs Spain | Pool A | 2pm local time, 8:30am GMT |
| . | Germany vs Australia | Pool B | 5:30pm local time, 12pm GMT |
| . | India vs England | Pool B | 7:30pm local, 2pm GMT |
| December 3 | Belgium vs Spain | Pool A | 5:30pm local time, 12pm GMT |
| . | Netherlands vs Argentina | Pool A | 7:30pm local, 2pm GMT |
| December 4 | Australia vs England | Pool B | 5:30pm local time, 12pm GMT |
| . | India vs Germany | Pool B | 7:30pm local, 2pm GMT |
| December 5 | Argentina vs Spain | Pool A | 5:30pm local time, 12pm GMT |
| . | Belgium vs Netherlands | Pool A | 7:30pm local, 2pm GMT |
| December 6 | Quarter-final 1 | - | 5:15pm local, 11:45am GMT |
| . | Quarter-final 2 | - | 7:30pm local, 2pm GMT |
| December 7 | Quarter-final 3 | - | 5:15pm local, 11:45am GMT |
| . | Quarter-final 4 | - | 7:30pm local, 2pm GMT |
| December 8 | QF losers match 1 | - | 5:15pm local, 11:45am GMT |
| . | Semi-final 1 | - | 7:30pm local, 2pm GMT |
| December 9 | QF losers match 2 | - | 5:15pm local, 11:45am GMT |
| . | Semi-final 2 | - | 7:30pm local, 2pm GMT |
| December 10 | Third-place match | - | 5:15pm local, 11:45am GMT |
| . | Final | - | 7:30pm local, 2pm GMT |