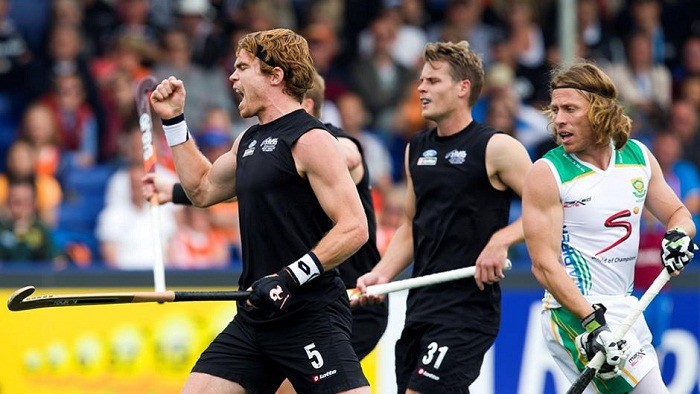 Andy Hayward scored a hat-trick as New Zealand thrashed South Africa 5-0 in their second group game of the World Cup, while hosts Netherlands managed to prevail over South Korea 2-1 thanks to a last-minute goal from Robbert Kempermann at The Hague on Tuesday.
The Black Sticks started the match in explosive fashion and built a three-goal advantage over South Africa inside first 17 minutes. Simon Child opened the scoring when he rifled a shot straight into the goal from the top of the striking circle.
Hayward converted a couple of penalty corners to put the Black Sticks 3-0 up in the rubber. South Africa pressed hard to get back into the match, but Kiwi defender Devon Manchester made a number of crucial saves to keep them at bay.
Child almost scored his second when his cracking backhand shot struck the goalkeeper Erasmus Pieterse's helmet. The Kiwis soon followed with two more goals through Shea McAleese, who made it 4-0, and Hayward, who completed his hat-trick in the 52nd minute.
"Penalty corners were definitely a focus for us today," Kiwi coach Colin Batch said. "We've got some good variations and two guys that flick well so we want to utilise that. We talk about effort over 70 minutes and you're going to make some errors but we were able to cover them up today. Defence will always be a cornerstone of any success that we have here."
Meanwhile, Korea came desperately close to holding Netherlands to a draw, but a late goal from Kempermann helped the Dutch clinch all three points from the contest at the Kyocera Stadium.
The Netherlands were rocked early when Korea opened the scoring in the fourth minute through Nam Hyunwoo. The hosts came close to scoring the equaliser, but Lee Myungho stopped a cracking shot from Billy Bakker.
The Orange-brigade finally got the equaliser in the 21st minute when Jeroen Hertzberger converted a penalty stroke. The Korean defence stood firm against the pressure mounted by Valentin Verga and Constantijn Jonker, and managed to keep the scoreline 1-1 till the final minute.
Kempermann collected the ball in the dying moments and took it into the Korean circle. He slammed the ball into the net to secure the game and all three points for the hosts.
"We knew that they would defend like that, so it was important that we concentrated fully on our defence, because they are quick and always posed a threat on the counter-break. I can't tell you - phew - I was so pleased to see that goal go in," Dutch goalkeeper Jaap Stockmann said.
Meanwhile, Argentina upset Olympic champions Germany with a 1-0 win in a hard-fought encounter. Manuel Brunet scored in the 31st minute for Argentina and they held on to secure all three points from the tie.
Find the highlights of both the matches HERE, HERE and HERE.