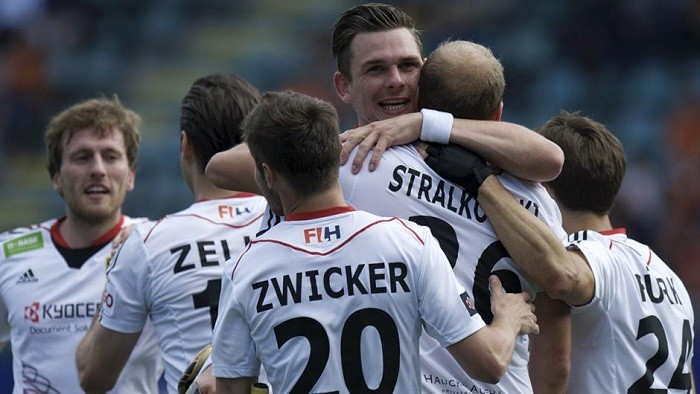 Olympic champions Germany started their World Cup quest with a comfortable 4-0 win over South Africa, while hosts Netherlands got the better of Argentina and New Zealand edged South Korea at The Hague on Sunday.
South Africa displayed solid defence against the 2006 World Cup winners and kept them at bay till the 26th minute. Christopher Zeller finally broke the deadlock in 27th minute, when Timothy Drummond fouled inside the circle. Zeller made no mistake in converting the penalty stroke and put Germany 1-0 up in the tie.
Seconds before the halftime whistle, Thilo Stralkowski doubled the lead, when his shot crashed into the net.
Germany came out with all guns blazing in the second half and scored twice inside four minutes to put South Africa out of the game. Mats Grambusch scored in the 56th minute, while Oliver Korn made it 4-0 in the 59th minute.
South African keeper Erasmus Pieterse, who made a string of incredible saves, said his team's performance was good, but they failed to keep the score down.
"I knew I had to bring my best game today," Pieterse said. "It is not every day that you face the Olympic champions so I knew I would be busy. Our focus today was on keeping the score down, it was more about the performance than the result."
Meanwhile in the second match, Netherlands earned a hard-fought victory over Argentina at the Kyocera Stadium. The Hosts came close to scoring in the opening five minutes through Rogier Hofman and Valentin Verga, but Argentina held on.
The Dutch finally found the target in the 26th minute through Verga, but Argentina got the equaliser soon enough in the 33rd minute when Gonzalo Peillat converted a penalty corner. Mink van Weerden put Netherlands in the lead, when a drag flick whistled into the goal.
Argentina looked desperately for the equaliser, but goalkeeper Jaap Stockmann denied them a few times. The match was soon over, though, as Verga displayed blistering speed and outpaced the Argentine defence, as he ran full-length down the pitch before giving the ball to Rogier Hofman, who made it 3-1 in favour of the Dutch.
In the third game of the day, New Zealand scored in the dying moments to clinch all three points against Korea. Steve Edwards put the Black Sticks in the lead as early as the first minute, but the outcome of the match wasn't decided until the closing stages when Phil Burrows scored the winner.
Just six minutes before the hooter, Korea equalised through Kim Seongkyu and as the match looked headed for a draw, New Zealand made a dramatic turnaround, scoring through Burrows in the final minute via a penalty corner.
Watch the highlights of all three matches HERE, HERE and HERE.