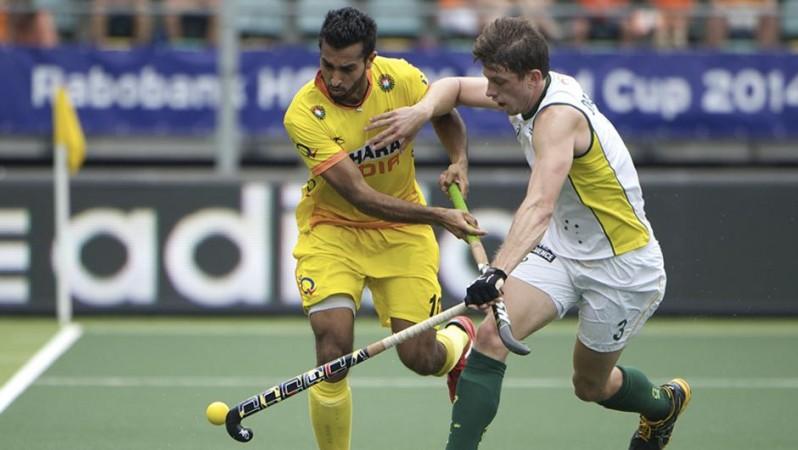 The Indian hockey team faced a humiliating 4-0 defeat in its last group match against Australia to finish fifth in Pool A of the Hockey World Cup at The Hague on Monday. The Kookaburras scored all four goals in the first-half and closed any chance of India's revival in the tie.
The defending champions started the match in an explosive fashion and scored the first goal in the third minute through Kieran Govers. Skipper Sardar Singh and goalkeeper PR Sreejesh were again the standout performers for India, but were unable to stop the Australian juggernaut.
Chris Ciriello doubled the lead in the 16th minute when his low drag flick whistled into the goal beating Sreejesh. On a counterattack, Australia earned a penalty corner and Jeremy Hayward tripled the lead in the 20th minute.
After taking a three-goal advantage, Australia added one more in the 22nd minute when Ciriello completed a brace by lodging a ball into the goal. Indian team managed to keep Australia scoreless in the second half, but Indian coach Terry Walsh was not pleased with the performance.
"They were 4-0 at half-time but just because we didn't concede in the second half that doesn't mean that we were significantly better in that half, the heat had just gone out of the game," Walsh said.
Though the Indian team created a number of opportunities, it was not able to provide the finishing touch. Yuvraj Walmiki was once denied by goalkeeper Andrew Charter and Dharavamir Singh's shot was saved by second goalkeeper Tyler Lovell.
Australia has qualified for the semifinals along with England from Pool A, but they have some injury concerns. Aussie skipper Mark Knowles sustained a neck injury and was taken out on a stretcher following a collision with an Indian player.
Star player Jamie Dwyer also had some injury concerns and he left the field early, while Govers appeared to have picked some injury as he was below par in the second half.
"At the moment I don't know what the situation is," Australia's coach Ric Charlesworth said. "He will be assessed, but I hope he will be back for the semi-final."
India will either play South Africa or South Korea in 9th and 10th place playoff match, while Australia will face either the Netherlands or Argentina in the semis.
Walsh admitted that a blistering start by Australia shattered India's confidence and also pointed out that they were complacent in many parts of the match.
"Australia started quickly and they always do that. It shattered our confidence and the Indian team faced some self-doubt," Walsh pointed out. "We paid the penalty for being careless at the start."
Meanwhile in other Pool A encounters, a brace from Gabriel Dabanch helped Spain defeat Malaysia 5-2 at the GreenFields Stadium, while England prevailed over Belgium 3-2 to qualify for the semi, thanks to a late goal on a penalty corner.