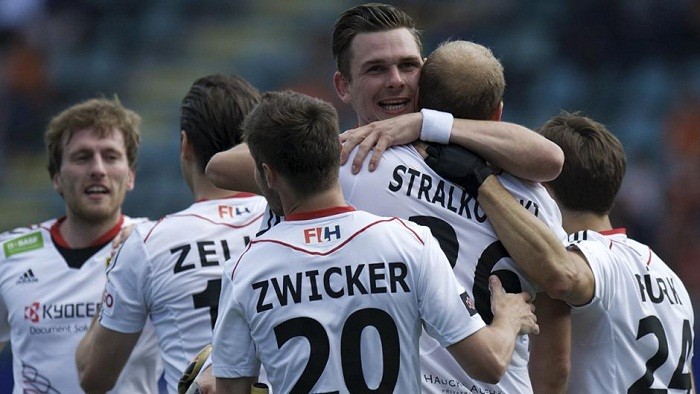 Germany are set to face Argentina in their second Group B game, while England eves will be hoping to put their World Cup quest on track after suffering a narrow defeat against the United States at The Hague on Tuesday.
Both German men's and women's teams will be in action at the Kyocera Stadium, with the former expected to have an easy outing against Argentina after thrashing the Proteas in the first match. Germany eves will face South Africa, who suffered a 4-1 defeat to Argentina in their last encounter.
South Africa skipper Marsha Cox vowed to make a comeback after losing the first game and said her team will play attacking hockey against Germany. Cox pointed out that they put so much focus on defence that they 'almost forgot their attacking skills', but looked pleased with her team's performance.
England women's team will face China after suffering a narrow defeat against the US. The United States made full use of England's nervous start and took a two-goal advantage to seal all three points.
The English captain Kate Richardson-Walsh was left fuming with her team's performance, especially in the early minutes, and urged her teammates to step up their game against China.
"I am angry with our opening few minutes," said Richardson-Walsh. "A couple of passes went astray and that tentativeness was infectious throughout the team. You can't come to a World Cup and start like that."
New Zealand men's team will play against South Africa after avoiding defeat against South Korea. The Black Sticks' Phil Burrows called it a hard-earned victory and insisted that they are ready to face SA after beating Korea in a nail-bitter.
"Korea are a tough bunch to play against," Burrows said after the match. "We are really pleased to have got three points on the board and we are looking forward to the next game now."
The defending champions, Argentine women's team, will face the United States, while the Netherlands men's team, after beating Argentina in the first game, will lock horns with South Korea in the final game of the day.
Schedule of Play
South Africa vs Germany (Women) Starts at 10:30 am CET, 2:00 pm IST
England vs China (Women) Starts at 1:00 pm CET, 4:30 pm IST
South Africa vs New Zealand (Men) Starts at 2:30 pm CET, 6:00 pm IST
Germany vs Argentina (Men) Starts at 4:00 pm CET, 7:30 pm IST
Argentina vs United States (Women) Starts at 5:30 pm CET, 9:00 pm IST
Netherlands vs South Korea (Men) Starts at 7:45 pm CET, 11:15 pm IST
Where to Watch Live
The first match, between South Africa and Germany, is scheduled for a 10.30 am local time (2 pm IST) start, with Germany vs Argentina match set for a 4 pm local time (7.30 pm IST) start. Live coverage in India is on Ten Sports, with the live streaming option HERE. Viewers in the US can catch the action on ESPN 3 or via the live streaming option HERE. The UK viewers can watch the matches on Sky Sports 3, while they can also catch the action live online HERE.