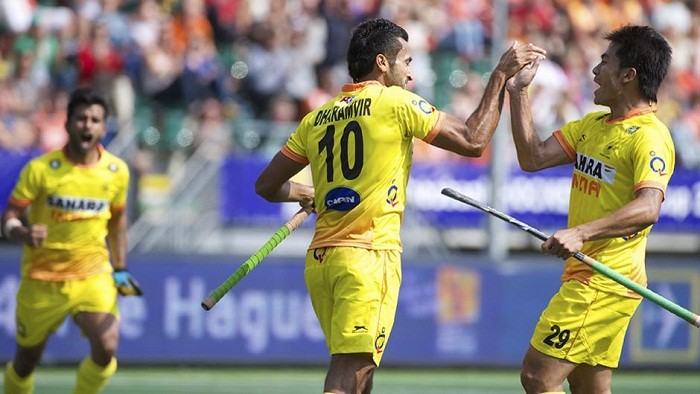 India hockey team is without points in the Hockey World Cup after suffering back-to-back defeats, and they will be looking to plug holes against Spain in their third game at The Hague on Thursday.
India is on the verge of crashing out of the tournament, but the team has played quite well in last two rubbers against higher-ranked opponents. There are clear signs of improvement, but late-goal woes have prevented them from scoring points.
India will be looking to erase heartbreaking moments from the previous games. Spain are below India in the FIH rankings, but they have quality players like goalkeeper Quico Cortes, Eduard Tubau and skipper Santi Frexi.
Indian team's technical director, Roelant Oltmans is well aware that beating Spain, who gave England a run for their money, and snatched a draw in their last encounter, is not going to be an easy task.
"We've not played Spain often in recent times, but they have several high-quality players in their ranks," Oltmans said. "We'll have to perform well as a team to overcome this rival."
Indian skipper Sardar Singh insisted the players have worked hard during practice sessions to rectify defensive errors they committed in their last two games and the team is motivated to give its best in the remaining ties.
"No doubt Spain is a good team, but we are fully prepared for our third game," Sardar said. "We have worked hard on our defence for the mistakes we committed in the last two games and will ensure that we keep our nerves and give a good finish in tomorrow's game.
"The boys are fully motivated and determined to win the remaining matches. [Goalkeeper] PR Sreejesh has been the highlight in both the matches and we are looking to him to hold the fort high in the upcoming matches too."
Sardar Singh also pointed out the team will keep a close eye on seasoned Spanish striker Tubau and will not allow him to score freely.
"We will keep a close watch on Spain's forward Eduard Tubau who is known for creating chances and scoring through chances which you would never have imagined that existed," the Indian captain said. "With his 260-plus international caps he is the most seasoned campaigner in that team and we will not allow him to score against us."
Indian coach Terry Walsh is optimistic his players will impress everyone with their performance after working on their shortcomings during the training session.
"In our training and video sessions held during last two days, we have thoroughly worked on our shortcomings and tried to motivate the boys," Walsh said. "We have also reworked on our strategies for the future games and the focus will be only to win the remaining three games. I am sure that boys will finish well in the remaining games and impress everyone with their performance."
Schedule of Play
Belgium vs Australia (Women) Starts at 10:30 am CET, 2:00 pm IST
Malaysia vs England (Men) Starts at 1:00 pm CET, 4:30 pm IST
South Korea vs Japan (Women) Starts at 2:30 pm CET, 6:00 pm IST
Belgium vs Australia (Men) Starts at 4:00 pm CET, 7:30 pm IST
India vs Spain (Men) Starts at 5:30 pm CET, 9:00 pm IST
New Zealand vs Netherlands (Women) Starts at 7:45 pm CET, 11:15 pm IST
Where to Watch Live
The first match, between Belgium and Australia, is scheduled for a 10:30 am local time (2:00 pm IST) start, with India vs Spain match set for a 5:30 pm local time (9:00 pm IST) start. Live coverage in India is on Ten Sports, with the live streaming option HERE. Viewers in the US can catch the action on ESPN 3 or via the live streaming option HERE. The UK viewers can watch the matches on Sky Sports 3, while they can also catch the action live online HERE.