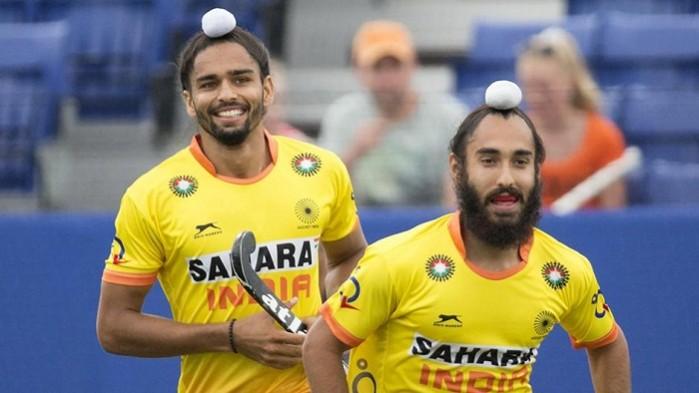 India are set to face defending champions Australia in their final group match of the World Cup at The Hague on Monday, after nabbing their first win of the competition against Malaysia on Saturday.
It is going to be a massive task for the Indian team to stop the Australian juggernaut. The Aussies have already booked their place in the semifinals by winning all four matches so far, and would be hoping to their maintain 100 percent record.
The Kookaburras have faced little resistance in the group games so far, and in the last match they hammered England 5-0. Aussie coach Ric Charlesworth, who is in his last World Cup with the team, is also determined to retain the title.
India, on the other hand, has punched above their weight in the tournament, and gave tough fights to England and Belgium, drew with Spain and defeated Malaysia in the last match.
India has a pitiable record against the number one ranked team as they have been hammered in the last few encounters by Australia. Indian skipper Sardar Singh, though, is hopeful of a positive outing on Monday.
"The team is all set to take on Australia," Sardar said. "Our last match against Malaysia will act as a motivation as we are all looking forward to play the defending champions. There is positivity in the dressing room which will act in our favour on the field."
Indian coach Terry Walsh stated the confidence of the team is high, after registering their first win in the competition. He is hopeful that striker Akashdeep Singh, who scored a brace in the last game, will maintain his good run of form against Australia.
"We had a good game against Malaysia which has resulted in a morale and confidence boost of the team," Walsh said. "Akashdeep Singh is in a good form and is surely to be looked out for in the subsequent matches as well."
Shipping goals in the dying moments is haunting the Indian team as they conceded late winners against both the Red Panthers and England. Walsh said the team is concentrating on defending well in the final moments but also pointed out their poor penalty corner conversion rate.
"From our end we will focus on scoring goals and concentrate more on saving the crucial last minute goals of the opponent," Walsh pointed out. "Also, we have been poor with penalty corners and are working in the direction. I am sure our world class midfield and an energetic forward line will make us a difficult rival for Australia."
Schedule of Play
New Zealand vs Australia (Women) Starts at 10:30 am CET, 2:00 pm IST
Australia vs India (Men) Starts at 1:00 pm CET, 4:30 pm IST
Spain vs Malaysia (Men) Starts at 2:30 pm CET, 6:00 pm IST
Netherlands vs South Korea (Women) Starts at 4:00 pm CET, 7:30 pm IST
Japan vs Belgium (Women) Starts at 5:30 pm CET, 9:00 pm IST
Belgium vs England (Men) Starts at 7:45 pm CET, 11:15 pm IST
Where to Watch Live
The first match, between New Zealand and Australia, is scheduled for a 10:30 am local time (2:00 pm IST) start, with Australia vs India match set for a 2:30 pm local time (6:00 pm IST) start. Live coverage in India is on Ten Sports, with the live streaming option HERE. Viewers in the US can catch the action on ESPN 3 or via the live streaming option HERE. The UK viewers can watch the matches on Sky Sports 3, while they can also catch the action live online HERE.